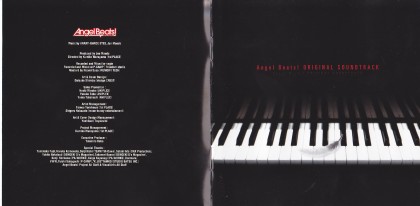 The karuta version of Ichiban no Takaramono is slightly different from the Yui Version. The main difference is that verses 1 and 4 are completely unique to each version. There are also a few changes scattered around the song but most are variations of "you" to "everyone." I'm not sure which one I like more. When possible I kept the sentence structure of the translations the same between versions. Anyway enjoy the original version of the lyrics.

Romaji
Suso ga nureta nara
Kawaku no mateba ii
Mizuoto wo tatete haneta
Kimi ga oshiete kureta n da Mou kowaku nai
Nigitte ite kureta kono te wo hanasanakya dame da
Hitori demo yuku yo Tatoe tsurakute mo
Minna de mita yume wa Kanarazu motteku yo
Minna to ga ii na Minna to ga yokatta
Demo mezameta asa Dare mo inai n da ne
Mou furikaette mo dare no kage mo nai
Mizutamari dake ga hikatta
Ikiteku koto sore wa tachimukatte iku koto
Sore ga wakatta nara ato wa fumidasu yuuki dake
Doko made mo yuku yo Koko de shitta koto
Shiawase to iu yume wo kanaete miseru yo
Minna to hanarete mo Donna ni tooku natte mo
Atarashii asa ni Kono Boku wa ikiru yo
Hitori demo yuku yo Shinitaku natte mo
Koe ga kikoeru yo Shinde wa ikenai to
Tatoe tsurakute mo Yami ni tozasarete mo
Kokoro no oku ni wa Akari ga tomotteru yo
Megutte nagarete Toki wa utsuroida
Mou nani ga atta ka Omoidasenai kedo
Me wo tojite mireba Minna no waraigoe
Naze ka sore ga ima ichiban no takaramono
English Translation
Whenever the tips of my clothes got wet,
I was alright just waiting for them to dry.
I jumped wholeheartedly to the sound of the water.
You taught me so much; I'm not scared anymore.
I have to let go of these hands that were holding me.
I'll go by myself, even if it looks painful,
I'll always carry on the dream I had with everyone.
Being with everyone is so nice; Being with everyone was so wonderful.
But when I woke up in the morning, no one was there.
Even if I don't turn around anymore, I know I won't see anyone's reflections.
Only the puddles were shining.
Living is the same thing as fighting.
If I understood that, I would have only the courage to advance onward.
I'll go anywhere, you all know that.
I'll show you all that I can grant your dreams of happiness.
Even if I'm separated from everyone, no matter how far,
I'll be born with the new morning.
I'll go by myself, even if I want to die,
I can hear your voices; I mustn't die.
Even if it looks painful, even if I'm locked in darkness,
Deep in my heart the light is burning.
Time changed as it ebbed and flowed.
I can't remember what happened anymore but,
If I try and close my eyes I can hear everyone's laughter.
Somehow that's now my most precious treasure.
Kanji
裾が濡れたなら
乾くの待てばいい
水音をたてて跳ねた
きみが教えてくれたんだ もう恐くない
握っていてくれたこの手を離さなきゃだめだ
ひとりでもゆくよ 例え辛くても
みんなで見た夢は 必ず持ってくよ
みんなとがいいな みんなとがよかった
でも目覚めた朝 誰も居ないんだね
もう振り返っても誰の影もない
水たまりだけが光った
生きてくことそれは立ち向かっていくこと
それがわかったなら後は踏み出す勇気だけ
どこまでもゆくよ ここで知ったこと
幸せという夢を叶えてみせるよ
みんなと離れても どんなに遠くなっても
新しい朝に この僕は生きるよ
ひとりでもゆくよ 死にたくなっても
声が聞こえるよ 死んではいけないと
例え辛くても 闇に閉ざされても
心の奥には 明かりが灯ってるよ
巡って流れて 時は移ろいだ
もう何があったか 思い出せないけど
目を閉じてみれば みんなの笑い声
なぜかそれが今一番の宝物