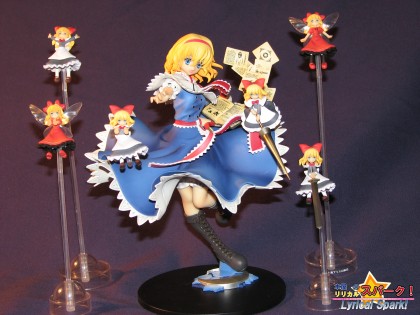 I hadn't heard about the company ques Q until I saw this article on moeyo earlier in the year but I took notice immediately. As soon as I gazed upon the beautifully rendered Alice resin kit I knew I had to get the PVC version. I'm really glad I preordered as soon as it was available on amiami because now it's sold out in many places and going for some insane asking prices at auction.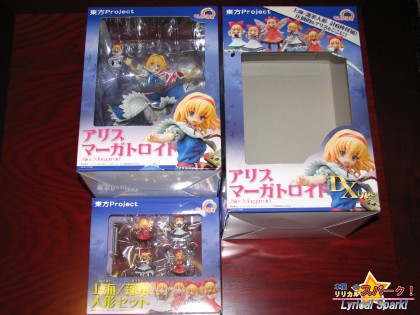 "Seven-Colored Puppeteer" Alice Margatroid DX type as the name implies combines the base Alice figure with additional dolls via the optional Shanghai/Hourai Doll Set. It literally just holds the two separate products together in a bigger box. You can see Alice from the front window while the 4 extra dolls can be viewed from the top of the DX box. Since the packages are also sold separately you could create a huge doll army for Alice if you felt like it.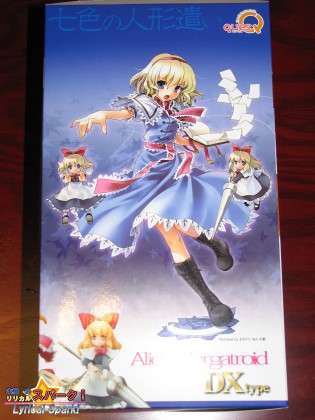 Just want to point out the figure illustration on the DX box's side.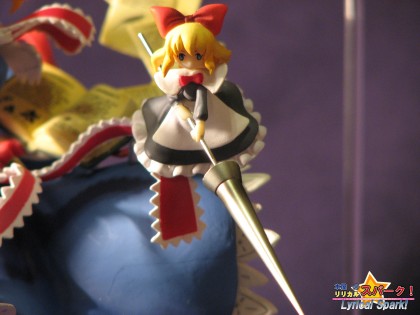 The Shanghai and Hourai dolls are small but pack a good amount of detail like the patterns painted onto the Hourai dolls' hems. Because of their size I was afraid of breaking this particular Shanghai doll when I inserted the lance into her hands. Fortunately it was fine despite the tight fit. The regular 2 doll that come with Alice mount directly to her skirt while the others have their own stands but of course you could swap them if you wanted to.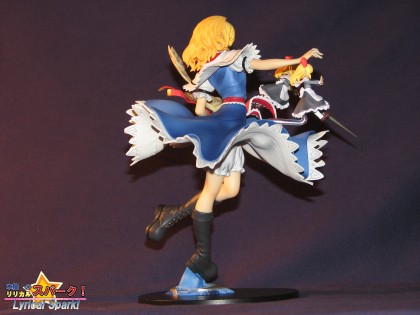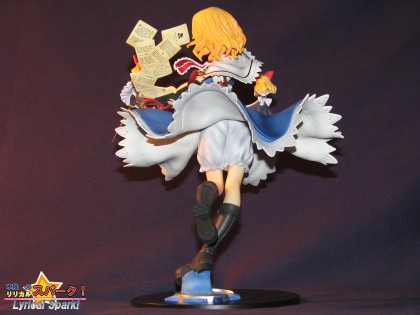 The skirt has a very dynamic and exciting look which also makes it hard not to get upskirt photos except from top-down angles.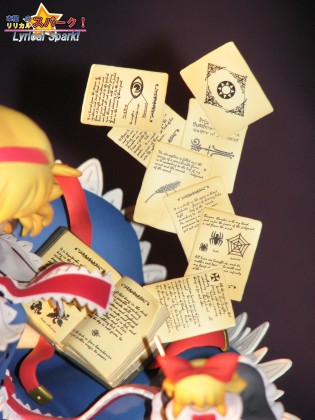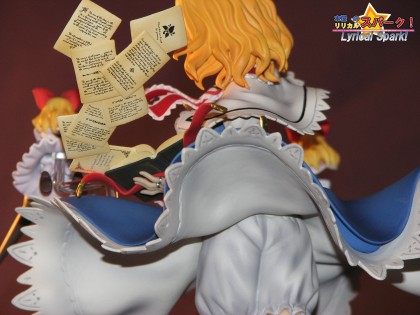 The amount of detail put into the figure is great which is especially evident on the pages and cover of the Grimoire of Alice.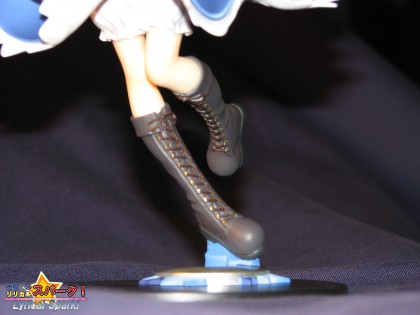 The boots look fantastic as well.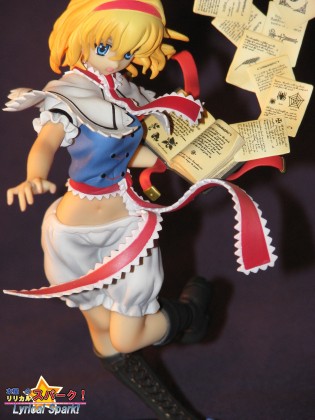 Another interesting feature is the ability to cast off the skirt so you can view Alice's bloomers with greater ease if you so desire.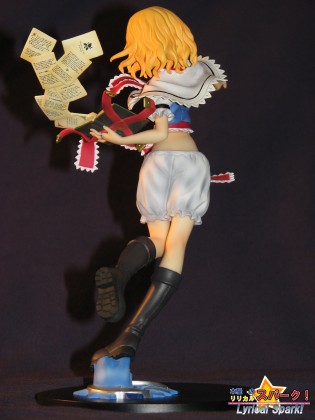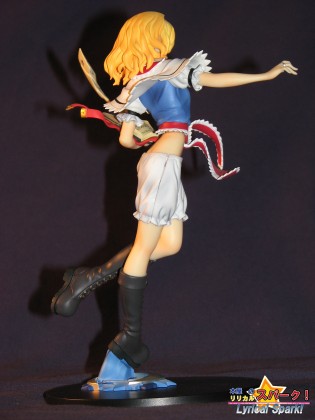 Notice the slit down Alice's bloomers?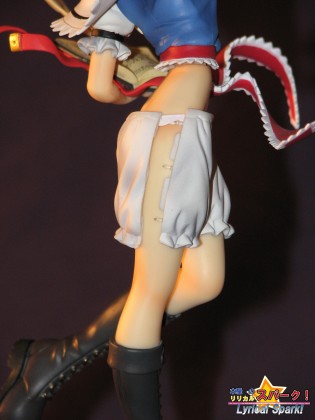 Well that's cast off too revealing some cute panties and how scrawny as hell she is (in a good way).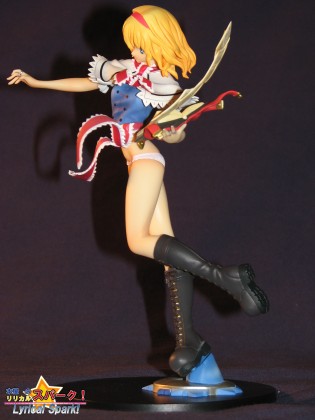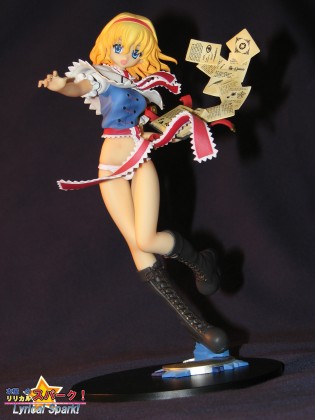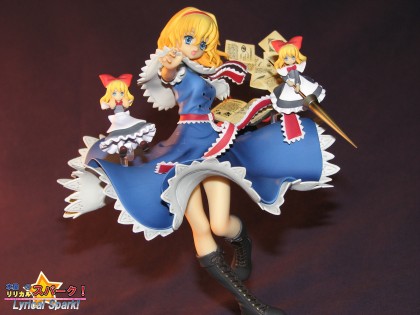 Putting her skirt back on sorta makes her look like she's going no-pan…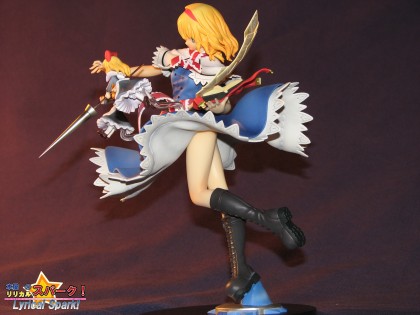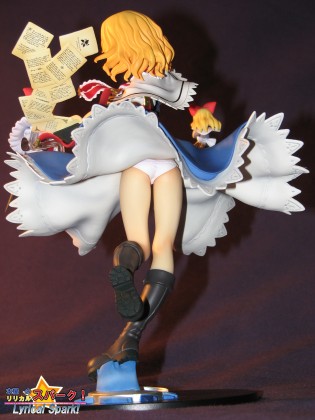 But of course she still has them on.
Overall I am quite pleased with ques Q's rendition of Alice. The sculpt, the pose and the build quality are excellent and pretty close to what the big guys put out. I can't think of any major flaws. Any flaws are minor and easily overlooked and happen with all figures. Sure the base price plus the awful exchange rate means that she is by far my most expensive figure but I have no regrets. She was worth every yen.
[Product Name] "Seven-Colored Puppeteer" Alice Margatroid DX type
[Series Name] Touhou Project
[Sculptor] Kerorin (XELFLEX)
[Scale] 1/8 Scale (appx. 21cm tall)
[Release Date] November 2011
[Specs] Pre-painted finished PVC product (some ABS)
[Normal Retail Price] 12,390 yen (11,800 yen without tax)
I went overboard and took too many photos so please browse the gallery below for more high-res pics!