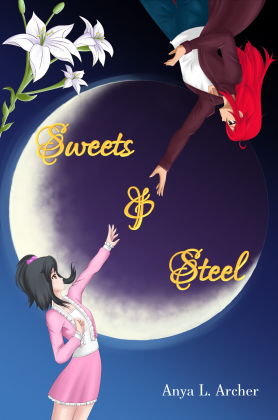 Anya has recently released the beta draft for the novel she has been working on for the past few years so I'd like to take a little time to feature it. First off, I'll let Anya's own words describe what it is about:
Sweets & Steel (tentative title) is a novel about our possibilities in becoming who we want to be. It revolves around the relationship between an insecure transgender girl trying to find herself, and Flan, a cynical mech test pilot trapped by her past. It is a story of familial relations, identity, sexuality, and the choices we make.

And a teahouse full of lesbians.
I've been following her progress for a while and helped a little along the way (I drew the cover for example) so I've seen various aspects change while others remains about the same. I think it's a wonderful story and I've grown to love the characters throughout the various iterations as things gradually fell into place. I've found my heart racing from touching character moments to exciting action scenes. However, I don't want to gush about my adoration too long. Instead, I'd rather you use that time to read Anya's beta draft yourself and come to your own conclusions! She could really use more beta readers to go through her story and give her constructive feedback to improve things further.
Please visit the official site for more details about how you can help and to get the download links of course! She'll be looking forward to your feedback!