It's April 2nd in Japan now so I went to 鍵っ子ブログ(Key Blog) to check for updates regarding Rewrite. I wasn't sure what to expect from Key but it seems that in fact the Rewrite announcement was indeed serious. However, the skeptical ones might believe that the announcement of the game itself could be real while the details such as the staff could be an April Fool's joke. Amazingly though, by the look of things (by which I mean sources such as 2ch so take that as you will) both Ryukishi07 and Tanaka Romeo will be collaborating with Key on this one.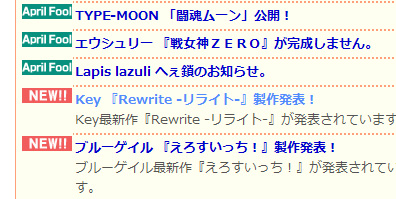 Assuming this is not some sort of convoluted extended April 2nd joke, this tops off the slew of recent announcements from the Otakusphere such as CLANNAD AFTER STORY (at least for me anyways). Given this interesting mix of talent, I am very curious as to what kind of story Rewrite will be, though I expect it to be nothing short of amazing.
Edit1: Looks like someone has already made a Wiki entry for Rewrite:
Rewrite (リライト, Riraito?) is a Japanese visual novel being developed by Key playable on the PC as a DVD. Rewrite is Key's seventh game, along with other titles such as Kanon, Air, and Clannad. The tagline for the game is, "Could it possibly be rewritten, that fate of hers?" (書き換えることが出来るだろうか。彼女の、その運命を。, Kakikaeru koto ga dekiru darō ka. Kanojo no, sono unmei o.?).

Development
Despite Key having the two artists Itaru Hinoue and Na-Ga as co-art directors with their sixth game Little Busters!, Key went back to having Hinoue as the sole art director and character designer, as was with Key's first three games Kanon, Air, and Clannad. Hinoue also heads the project's planning. However, Na-Ga does provide his assistance with computer graphics, along with Shinory, Mochisuke, and Minimo Tayama. Background art will be headed by Torino, who has worked previously with Key during the production of their first three games. For work on the scenario, Key has employed Ryukishi07 of 07th Expansion, the creators of the Higurashi no Naku Koro ni game franchise, and Romeo Tanaka, notable for his work on Yume Miru Kusuri and Cross Channel; Yūto Tonogawa returns after his help on the scenario for Little Busters!. The music in the game will be composed by Key's signature composers Jun Maeda and Shinji Orito. Maeda will also contribute as the quality checker for the game.
Edit2: Here's Key's Staff Blog Entry about Rewrite.
*Will keep updated as more info is released (and NO, this is not a deliberate April Fool's joke)*