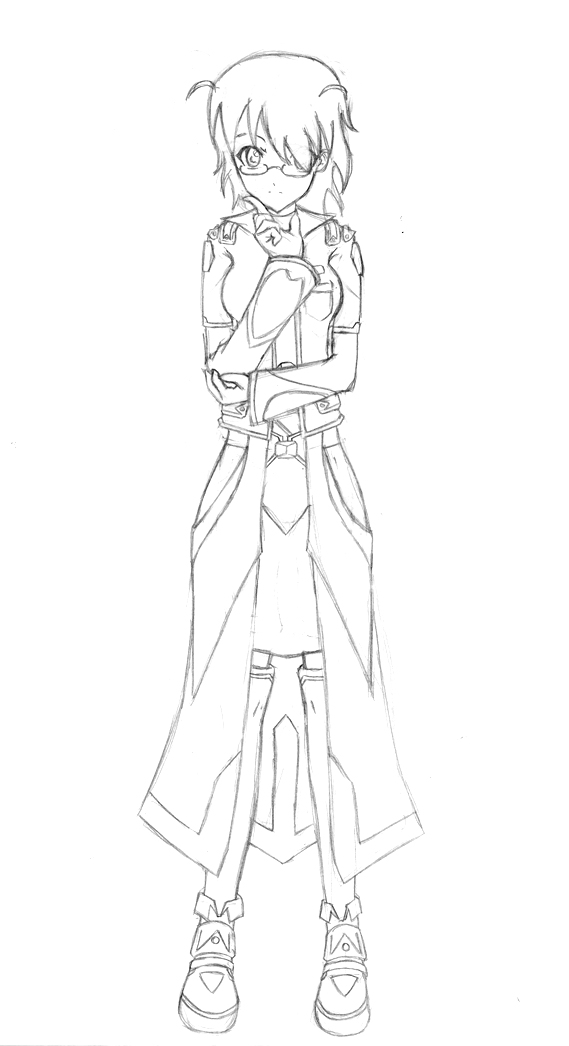 I didn't realize until about a week ago that I was on AnimeBlogger.net Antenna so Welcome Everybody who has come to visit my little site. It wasn't a complete surprise since I did submit my feed to Antenna but I thought I was not accepted. Anyways, I'm glad to be a part of the larger anime blogger community and will try my best to provide engaging content for my new readers as well as my loyal supporters.
That said, I still have past responsibilities to keep so the rest of the post will be devoted to The Imperium Project, a game development project at the University of Virginia. For those new to Lyrical Spark!, my prior work on the game can be found here. Technically this was due Sunday but I didn't want to post it without any new art so I waited a couple of days. Once everyone is caught up, let's get started!

First off, I want to talk a little bit about Hikari's second draft. Much of her design remains unchanged (check here for comparison). However, the lower half of her uniform was altered significantly. She now sports a short inner skirt instead of shorts and the lower half of the jacket became a long, outer skirt. Overall, I think I fixed the nagging "unfinished" look that was bothering me for a while.
Next up is the CG allocation. This is a pretty dry subject and is mainly for internal development so I will keep it rather short. During our weekly meeting Friday, team leader Zanaikin and I created an outline of all the CG's we will need for the game which is summarized below:
Main Storyline Event CG: ~10-12 covered over 3 arcs
Heroine Path Event CG: ~5 per path (~15 total)
Main Character CG: ~2-3 poses, ~7-10 faces each (9 Mains)
Minor Character CG: ~1-2 poses, ~4-6 faces each (10 Minors)
Template Character CG: ~1 poses, ~3 faces
Background CG: ~7 indoor, ~5 outdoor
The final CG count is small for a VN but should keep me and my graphics partner Narika busy for the year especially since it's just the two of us. For the immediate future, I will be prioritizing working on drafts for the Minor characters and working on the poses for the Main characters and hopefully will have a bunch of pictures posted this coming Sunday.
Lastly, I have finished my updated Sofiya arc draft, now with more details and Hikari goodness. Since the draft itself is rather long, I will be making a separate post hopefully within the day or two. Until then, please enjoy browsing my blog.