It's finally here! My long-awaited MG Unicorn Gundam Ver. Ka was delivered to me by my postman at about 3:30 this afternoon! Damn, that was fast! The mail folks around here should get medals.
Unicorn Gundam came in a FUCKING huge box. For the first time in my history with Gunpla, I felt the compulsive otaku urge to spread out the contents on the floor and photograph them just to show off.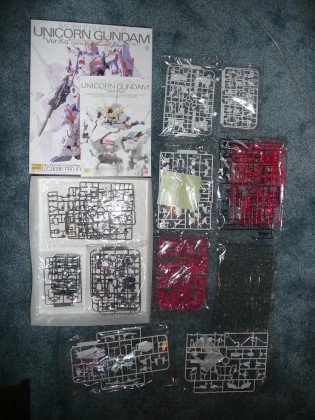 I've never seen so many runners and parts before! And there's even wet-application decals this time, which is going to make the finished model look much better while saving me lots of time and effort with the old detailing markers.
I'm going to take my time on this one and use every tool at my disposal, plus a few new ones, to make this Unicorn Gundam the magnum opus I intended it to be. I can't wait to share pictures with you guys when I'm done!