As I ranted about in the previous post, my lack of internet has severely impacted any sort of activity on this precious blog of mine. Now that I have my intertubes back up (with what appears to be better speed), I can begin to salvage Lyrical Spark!.
To start off, I will be posting the overdue TIP drawings that I finished about 2 weeks ago. Because I had no access to the TIP character list, my work on any new characters has been nonexistent to say the least. The bright news however is that the unwanted downtime allowed me to retrace most of the new drawings so for the first time will be posting clean drawings! These will be the drawings used for the character CGs unless someone on the team vehemently opposes for valid reasons.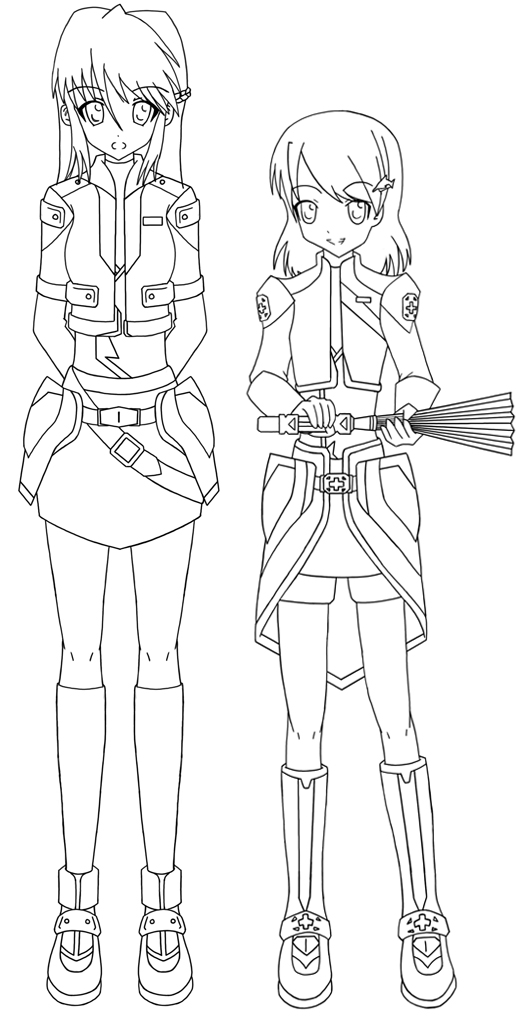 The first set of drawings I did were of Aorin and Rika. I decided to design a standard uniform for Aorin since all previous drawings had her in armor. The new uniform is heavily based on the TIP Alternative clothing I drew for her. Since she probably won't be wearing this uniform that much, its design is kept relatively simple in comparison to everyone else's. However she does have a pretty short skirt exposing most of her legs making her look even taller than she is.
Rika's new uniform is significantly different from the original. For one, she now has raised shoulders, wears gloves and her jacket now has stripe going across. In addition, her utility belt was removed in favor of the holsters ALL of the girls have. Her skirt now wraps around completely, her shorts have become spats and I completely removed the laces from her boots. All together this makes Rika look more streamlined like a pilot if that makes any sense.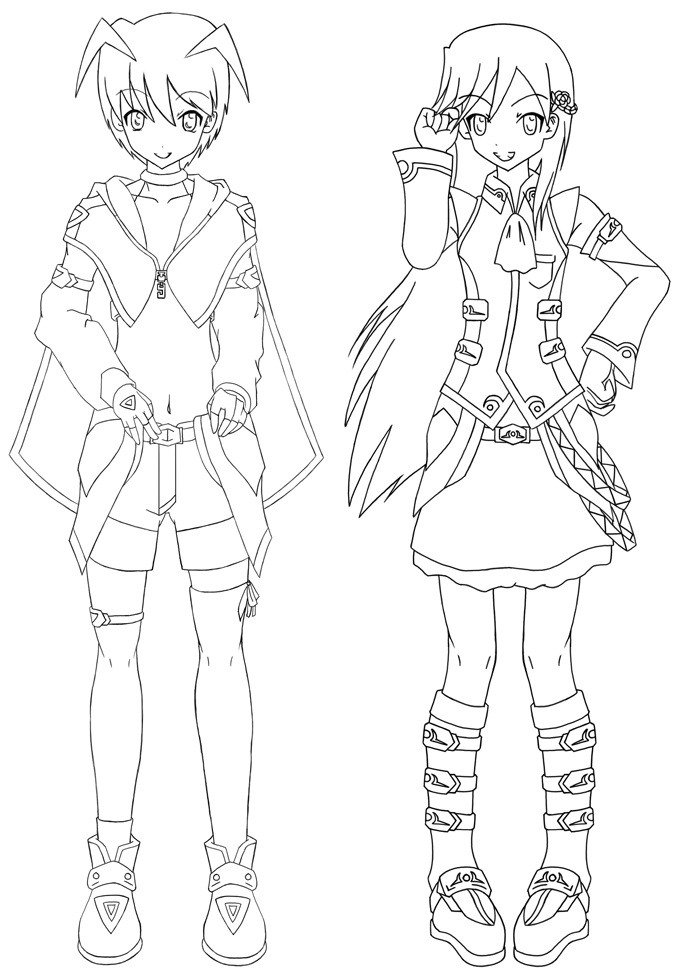 The next set is Canan and Exam. Canan looks mostly the same although the details of her clothing have changed. Her hooded cape now uses a zipper instead of a button attached to the now non-existent chest plate. Instead of a shirt she now wears a sleeveless skin-tight undershirt. Since there is now nowhere to attach the new sleeves, they are held in place with straps. Her skirt and spats have been replaced with shorts. Overall she remains close to her original but now her shoulders and armpits are exposed when she takes off her cape (insert Reimu here)!
Exam has undergone the most radical overhaul. His design was originally never meant for TIP so it took a while to make him fit in a little more plus I wanted to make him more feminine. I elongated his hair and it now sweeps to his right instead of left like before. Like Canan, his sleeves are also attached to his arms via straps. His skirt remains largely the same but now includes Hikari's patented holsters, his two chains have become straps and he doesn't wear shorts underneath anymore. Lastly I removed his striped knee socks and finished designing his boots. When I finished, I was worried what Citrus would think given the redesign but apparently he approves so that makes me happy. (I had to replace "her" with "his" more times than I wanted while writing this)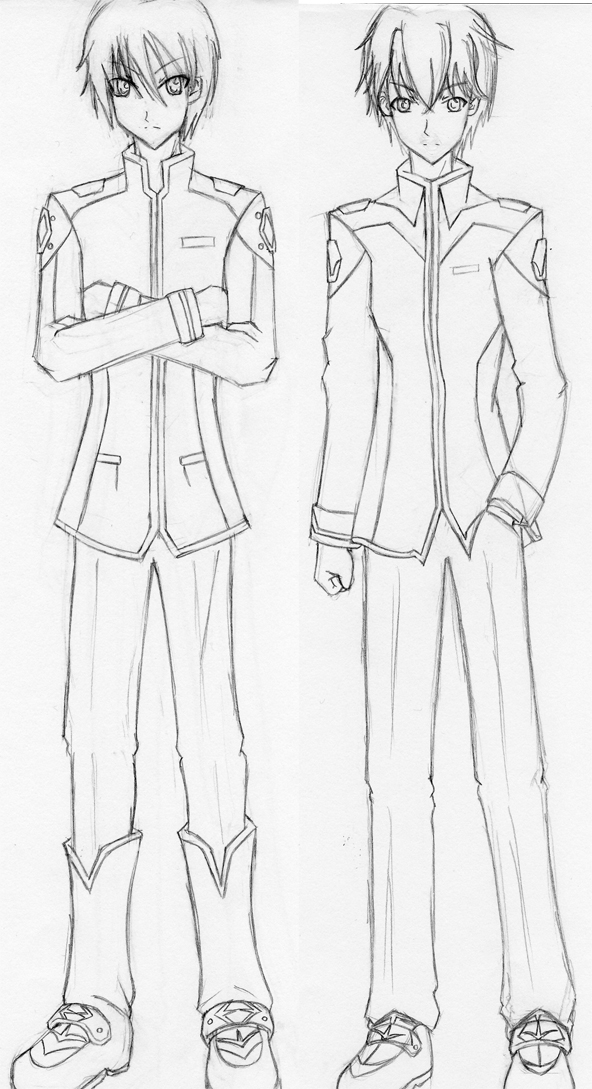 Missing from the clean list are Sofiya, Aoric and Lothair. I actually never made a new Sofiya drawing using her new uniform so I have to do that sometime and as a result will hold off on posting Hikari as well. Hikari is finished already in case you are wondering.
Aoric and Lothair's drawings are done but I have to do more modifications in Photoshop than what I did for the others. I drew all the characters to the same scale and as a result I could not fit the guys on a single sheet of paper. To compensate, I drew some of their body parts slightly off scale to fit everything with the intention of fixing it later. More news on that as I make more progress. For the time being, I will leave my comments later once I finish retracing them.
For those wondering why Exelar is missing, the answer is simple really. Since the game is played from his perspective and seeing him would be limited mostly to scene CGs, I felt that wasting resources on making him a set of character CGs would be counter productive. Unless I get some more drawers, I will most likely be dealing with all the drawings anyway in which case I only need a few reference drawings from myself.
Seriously though, more artists would be appreciated. I am sure I can do all the line work so people with coloring experience with no drawing talent are welcome. Ideally I would like another person or two to help me color the visual novel-side graphics. Another artist to help Sylon make the RPG-side graphics would also be a great help. A dedicated background artist would also be nice but that is at the bottom of my priorities right now. In the event someone has drawing skills as well, I will put you to work somehow. (insert begging for help here)
I suppose that is it for now. Now back to Catching Up Weekend! ;_;