After much work, I finally present the first piece graphics to be used in the visual novel side of the Imperium Project! I had not originally planned to color any CGs until I had completed designs for all the characters but because of broken tubes and such, I was not able to do so and instead ended up inking almost all the newer TIP drawings. When I got internet back, I found out that my wish for more artists had been partially granted so now I have a dedicated colorist/shader. Because of these reasons, I decided to work on a sample character CG.
I picked Hikari as the first one for several reasons:
1.) Hikari was the first to get finished line work< 2.) Hikari and Sofiya are the 2 characters that I have exclusive control over 3.) I haven't finished a finalized Sofiya pose yet 4.) Hikari's color palette has already been decided Despite these factors that suggest that I would complete it quickly, finishing this single drawing took much longer then I wanted. Details after the jump.
I started by adding the base colors but after zooming out, I found out that my line work was too thick for my tastes so I went back and made the lines thinner. Sadly for me it also means that I have to go back and reline most of my finished work before I can hand them off. I also tried out coloring the line work to match nearby areas i.e. giving the face a dark brown outline. Despite looking pretty good, it would take longer to recolor the lines and would not make color palette swaps easy so I decided not to do this.
As for shading, the method I used this time around was different then what I normally do. I usually make many layers set to multiply and then color with darker shades of the base colors. However this method does not lend itself to palette swaps very easily and the shading between colors may not always look consistent. Therefore I tried something that I have always been curious about, shading with pink. I still have a ways to go to master this technique but from what I can tell, it will make my shading a lot faster especially since I don't have to change layers so much. The only other colors I used were a light blue for white and light blue areas and black for black areas.
I also wanted to try something new for highlights and eyes. I wanted to keep highlights to a minimum so I mostly used them in the hair and skin. I also added them to a limited extent elsewhere but not too much to keep the uniform looking like fabric. For the eyes I used a combination of airbrush and shapes to imitate KyoAni's style. It is hard to see it in this resized version but It looks real nice in the full-sized one I have.
As for Hikari's color choice, it is pretty similar to the standard uniform worn by the rest of the crew. Dark blues and white are the main colors here with yellows and metallics used for the accents. Unlike most other uniforms, Hikari's has more white to retain a scientist/doctor feel and to create a lighter, more peaceful mood around her. One unintended consequence of this is that the white attracts attention to her chest and hips. Hikari also sports gold trim at the bottom of her skirt to distinguish herself from her subordinates who will most likely have yellow instead.
Since this was a demonstration piece for my current graphics team and hopefully for more recruits, I ended up spending extra time making sure things turned out perfectly. Overall I went for a more anime-style look than a visual novel one. What I mean is that there are more clearly defined edges between different shades instead of a constant shift. The color choices themselves are also relatively bright and for the most part line width is consistent. This look is what I am aiming for in terms of character CGs but that is not to say the scene event CG will follow this style. For those, I want them to look more like commercial visual novel CGs but that will depend mostly on time and most importantly manpower.
Before I make my leave, I leave you with some mock ups I made in boredom that includes a new scene for my Sofiya route tentatively called the Peach Scene. Enjoy: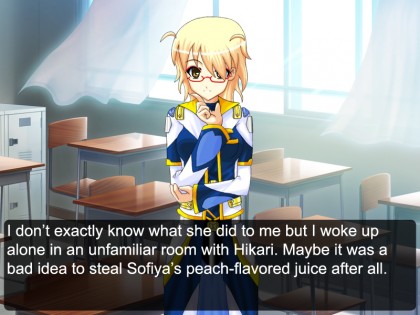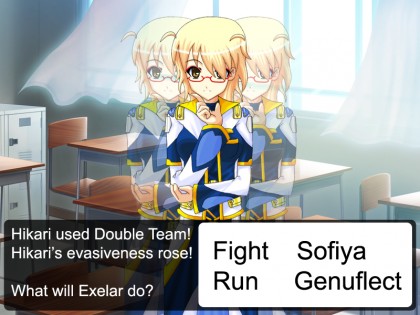 PS: This is my 100th post! Hooray to me!