Time for my first real figure post ever! Today i will be presenting my three Snow Strawberry iDOLM@STER Frauleins.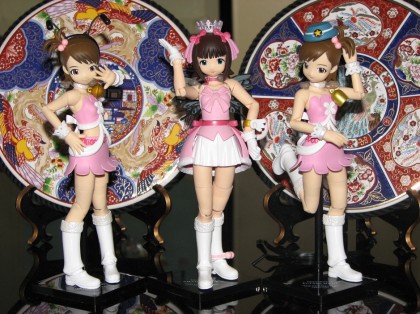 Everyone seems to be familiar with Max Factory's line of articulate Figmas yet I rarely hear about Kaiyodo's posable alternatives. Since I own three Fraulein's and have had experience with Figmas, I'll be making comparison's between the two figure lines throughout this post. Anyway, on to the iDOLM@STERs.

The Frauleins come packaged in small, well-decorated boxes wrapped by a small paper slip displaying other dolls in the line. The front has a small window to display the figures and is bordered with awesome Engrish while the back showcases several sample poses and the included accessories.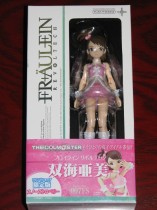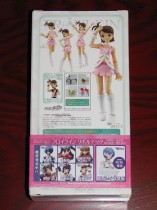 Inside, a black piece of plastic with indentations houses the body and spare hands. Ami and Mami come with 3 additional pairs of hands while Haruka comes with 3 additional pairs plus an extra hand in a pointing gesture. Fortunately the wrist accessories allow Haruka to swap hands with the twins despite wearing gloves.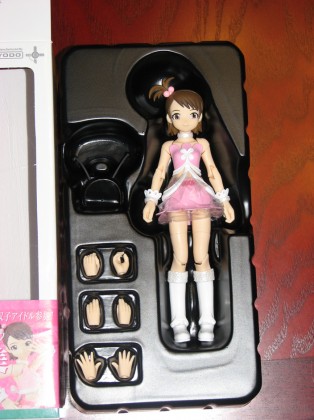 On the underside of the plastic are the base and accessories packaged in separate disposable bags. Haruka comes with a crown, butterfly wings, a cat tail, a bracelet and an anklet. Mami comes with cat paws, wolf feet, a cowbell and a cap. Lastly Ami is packaged with antennae, a chicken puppet, a bell and cat feet. Of course the vast assortment of accessories are interchangeable and are a pleasure to play with.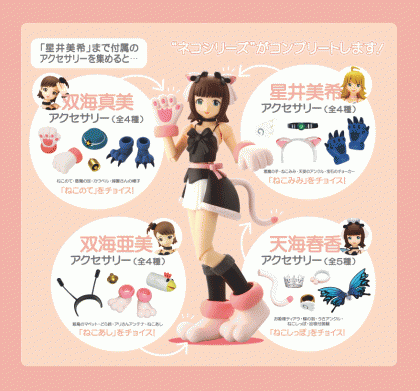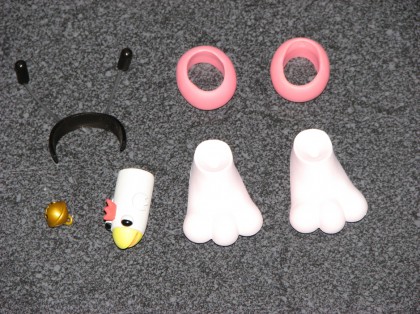 With this assortment of parts it would seem reasonable for Kaiyodo to include some sort of item to store them. Unfortunately this is not the case. Unlike Figmas which come with a durable pouch and a rack for the hands, the Frauleins come with nothing so if you want something other than the original box to store your parts, you are on your own. I use a clear acrylic box to protect my parts.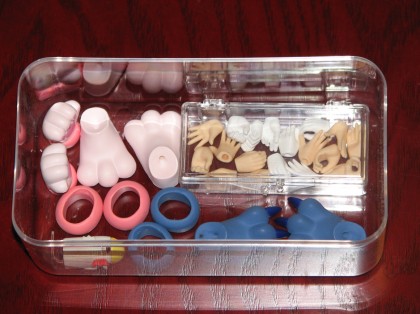 The base for the Frauleins is rather simple and much more similar to traditional doll stands. It is essentially a pole attached at one end to a corner of a diamond base with its other end connected to an adjustable arm. Since the figures are kept upright with an unattached ring at the neck, it is much harder to pose them in aerial postions compared to the Figmas. However the black bases are each individually labeled with the name and series of its figure so it looks much more elegant than the Figma counterparts.
As for the figures themselves, there is really not much fault to be found. Unlike Figmas which use ball-and-socket joints, the Frauleins use the hinged "Revolver' joint. The ball-and-socket design is relatively simple and does its job well for the Figmas. However the Frauleins have many more points of articulation making them more posable and realistic in comparison. The shoulders for example actually move back and forth due to the greater segmentation allowing for cool and cute poses that would be hard even for Figmas. If you can think of a pose, then the Frauleins can probably do it.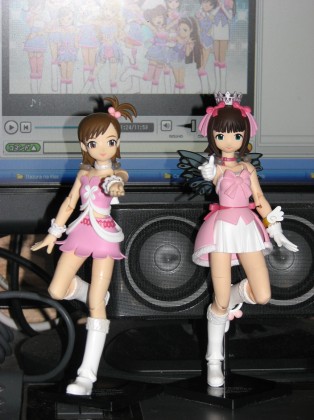 The paint quality is top notch as well and there are no visible mistakes on my three figures. Simple touches such as using glossy paint for the boots gives the Frauleins added detail and value. Most importantly, the faces look exactly like their video game versions.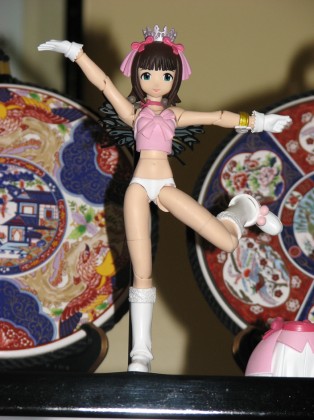 Did I mention you can take off Haruka and company's skirts to reveal their pantsu?
Overall the Frauleins are a fantastic value and worth the 2300 yen asking price. They have high articulation and posability is mostly limited to one's imagination. The lack of included storage options and the basic stand are the only main drawbacks. If Kaiyodo were to include a new, more posable base and some sort of case for the goodies with their new Frauleins and as add-ons for the old ones, then I wouldn't hesitate to say that the Frauleins are perfect.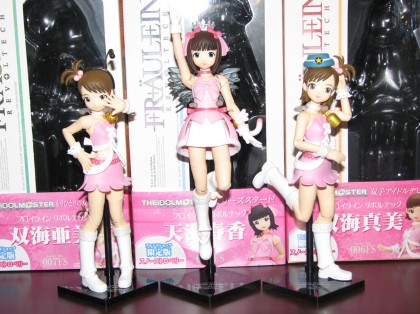 I'll try to have more pictures up later. Requests are welcome.