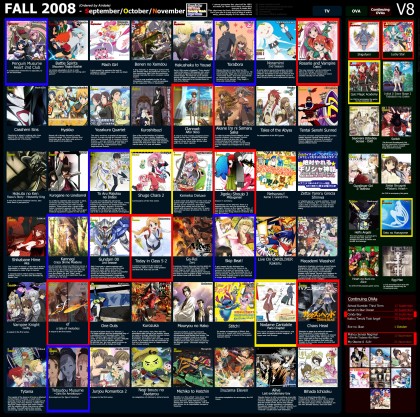 Epic Anime Season is Epic. Fall season will be starting in just a few days time and it is looking to be one of the best in recent memory. With shows like CLANNAD: After Story and Gundam 00 Second Season, this coming season looks like it will be Fall 2007 remix version 2.0. There are also plenty of new shows like ChaoS;Head that have plenty of potential to be awesome. I tried to narrow my watch list down but given the sheer amount of WIN, it was near impossible.

Will Watch
These are anime that I will watch no matter what even if they end up killing my grades in Japanese class.
(OVAs continuing on from previous seasons)
Probably Watch
This a list of shows I want to watch but can bear not to if I don't have time.
Might Watch
These are anime I will keep a tab on but will not watch right away. If they get a generally positive fan feedback or have must-see content, then I may watch them.
With that my list is finally done. I hope I don't have to become a NEET in order to watch everything I want to.