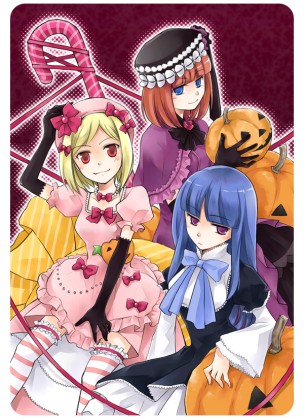 Today Witch Hunt released their fourth patch for Umineko no Naku Koro ni, the third story in the "When They Cry" series along with Higurashi no Naku Koro ni and Higurashi no Naku Koro ni Kai. This patch contains the files for the previously translated Episode 1 Legend of the Golden Witch as well as Episode 2 Turn of the Golden Witch. Since each new release of Umineko contains the previous games in the series, the patch comes in two flavors; one for the Episode 2 disk and one for the episode 3 disk. You can get them here and here respectively.
Please Visit the Umineko translation page on Baka-Tsuki for more details as well as to follow the progress of the translation of Episode 3 Banquet of the Golden Witch.

Umineko no Naku Koro ni takes place in 1986 during the time frame of October the 4th and the 5th on a secluded island named Rokkenjima (六軒島). The head of the wealthy Ushiromiya family, Kinzō Ushiromiya, who lives on and owns Rokkenjima, is near death, and eleven of his family members arrive on the island to discuss how Kinzō's assets will be divided once he is dead. Also on the island are five of Kinzō's servants, and his personal physician. After the eleven family members arrive, a typhoon traps them on the island and shortly after people start to get mysteriously murdered.
I've been reading through and enjoying Episode 1 since Sunday afternoon so I'm glad Episode 2 is now done being translated. I'll have to leave my final judgment for after the series is completed but for now I am enjoying this just as much as I did Higurashi.