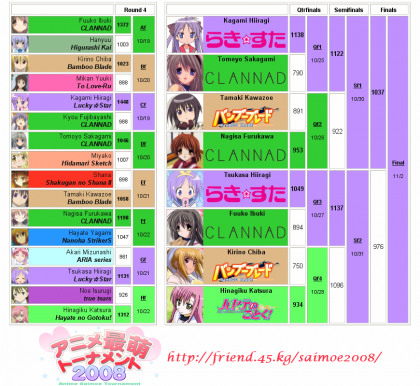 With this year's SaiMoe tournament at an end, it looks as if Kagami is the superior Hiiragi twin. Although I am happy that Kagami beat Tsukasa I am a little bit disappointed with this year's event as a whole. For one the top eight consisted of characters from only a total of 4 series; CLANNAD (3), Lucky Star (2), Bamboo Blade (2), and Hayate no Gotoku. Don't get me wrong as I like all these series but some variety would have been nice like in 2006 when there were 8 series represented.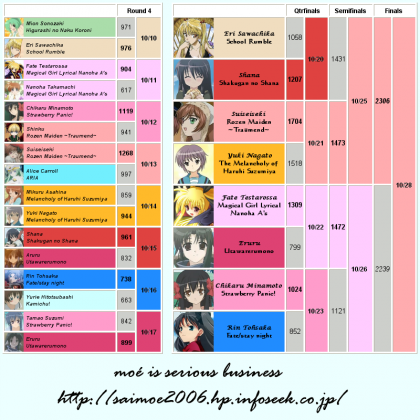 Out of the Round 4 characters that didn't make it, I would have liked to see some combination of Hanyuu, Miyako, Shana, Hayate, and Akari. Furthermore I am still shocked that none of the winners from the last three years even made it to the quarterfinals. Suiseiseki only made to the fourth round and neither Nanoha nor Rika even made it to that.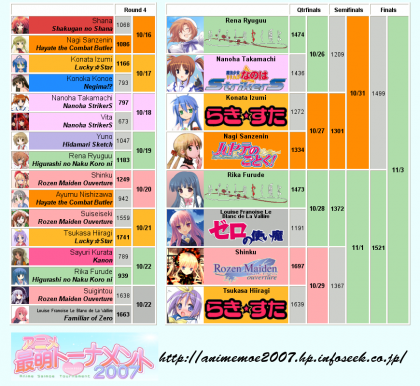 Speaking of Rika, SaiMoe 2007 has to be one of my favorites. Rika came out of nowhere to win a very tough fight with Nagi. Rika has to be one of my favorite Higurashi characters so I was glad that she got revenge for Rena's loss against Nagi.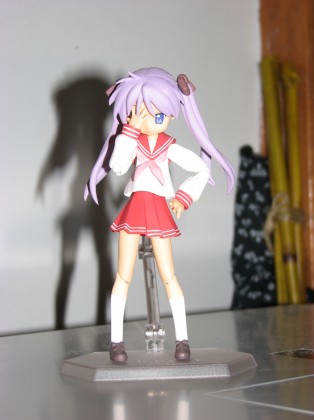 Overall it was an alright tournament. Hopefully next year will have a better character lineup and larger turnout. Anyways Figma Kagami Photo shot soon maybe.