After nearly 2 years since its initial inceptions, Four Leaf Studios has finally launched a site for Katawa Shoujo that isn't a forum for game development and discussion!! It has a nice clean layout and all the usual things you would expect from a professional game site included a short description of the story, character bios, samples, downloads and staff credits.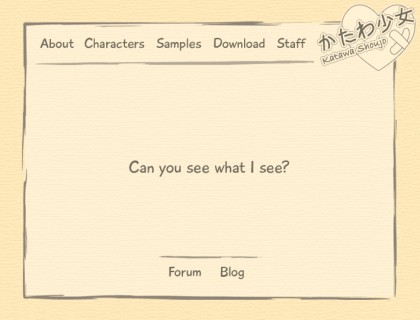 The front page has links to the forums and dev blog of course but the coolest thing is the rotating quotes that come up which link to all the different characters. For example "Can you see what I see?" links to Lilly's section of the character page.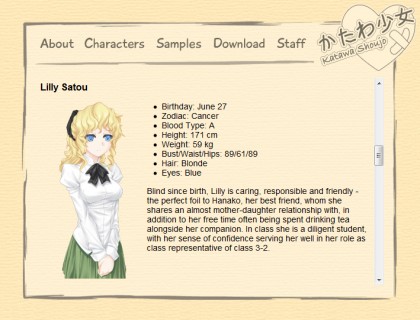 Speaking of Lilly, she was my favorite character along with Emi when I first heard about what would become Katawa Shoujo but that may change once the final game is out. I like how the character page has birthdays, measurements and even blood types for all the main characters. As for the minor characters, I laughed when I saw the best friend character and the nurse. Kenji looks a little Harry Potter there and I couldn't help but think of Nurse-kun when I read that the nurse is a young male.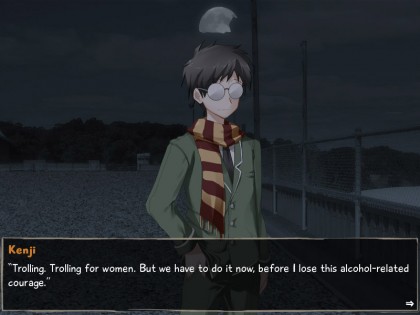 The sample page includes a few screen shots not released on the dev blog as well as the theme songs for the main girls. I after listening to them I can say that they are not bad. Not sure if I can call them memorable or not but my opinion may change after the full release.
On the downloads page, you can find 2 wallpapers of Emi and Misha at 1600×1200 and 2560×1600. However you can't get the so-called "preview" that was leaked a while back. There is a section for a new preview though so I wonder when that will be released.
The Staff page lists all the current staff of course and has a short description of how they project came to be. I'm glad to know that they included the original Katawa Shoujo sticky thread that I gave them. Of course I'm not actually listed since I haven't really done anything for them since the beginning of 2007. If I had the time and weren't busy with my current game dev project, I would have tried to join the team a year ago. Anyways have this bit of fanart instead. Enjoy.