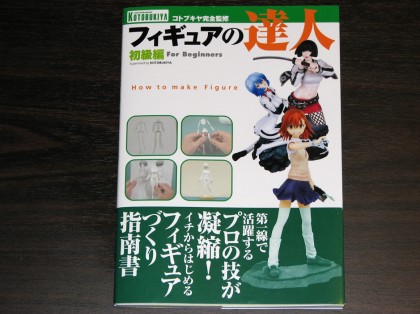 As I wrote yesterday, I got something else in the mail besides my Little Busters! pillows and that was a beginner's guide to figure making by Kotobukiya entitled Figure no Tatsujin: Shokyuu-hen (フィギュアの達人 初級編, Figure Expert: Beginner's Chapter) or How to make Figure if you want to use the slightly Engrishy title. With tips and guidance from some of Kotobukiya's finest, this guide is designed to have you creating your very own figure from scratch in no time. The nearly one hundred page book is written in Japanese of course but every page is filled with full-color photos and illustrations to accompany the amateur artist during every step of the way.

Since this is made by a major figure manufacturer, the first five pages feature a showcase of 9 figures by the company's best sculpters who also provide advice throughout the book. Each figure has a full body photo along with two closeups highlighting important details and a small blurb about the piece.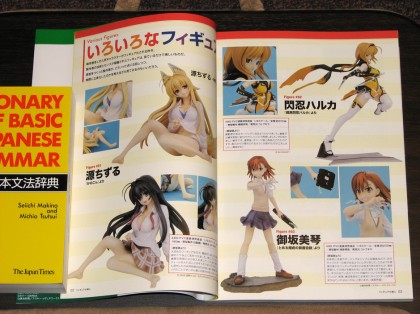 On the first two pages we have Minamoto Chizuru (Kanokon), Takamori Haruka (Beat Blades Haruka) and Misaka Mikoto (To Aru Majutsu no Index).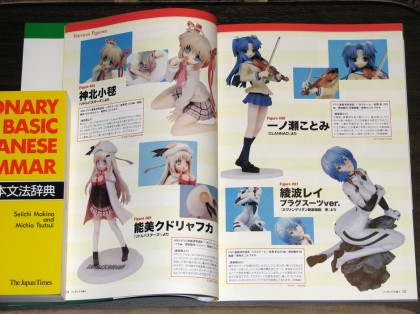 Next up are Kamikita Komari (Little Busters!), Noumi Kudryavka (Little Busters!), Ichinose Kotomi (CLANNAD) and Ayanami Rei (Evangelion).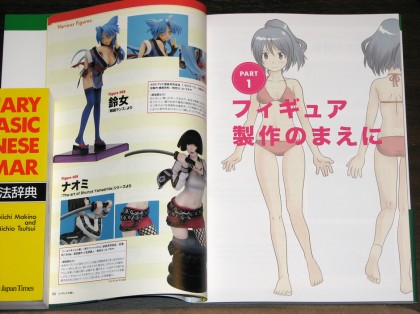 Last of all are Suzume (Sengoku Rance) and Naomi (The art of Shunya Yamashita).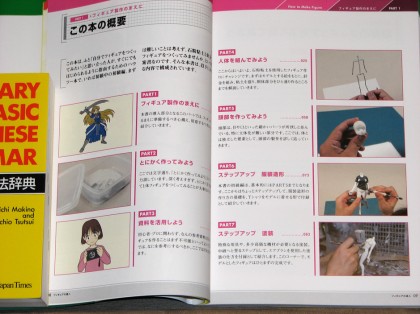 The book is divided into seven sections covering all the basics. Part one is about looking at existing figures before trying to make your own while the second part deals with coming up with an idea and getting materials ready.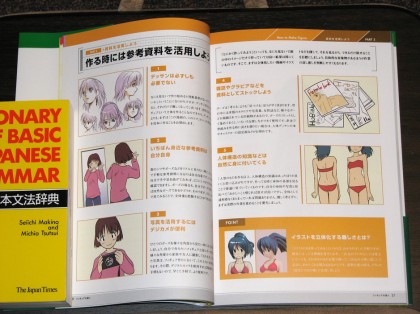 Part three covers designing your figure. This includes tips such as looking at yourself in the mirror and referencing magazines to come up with ideas.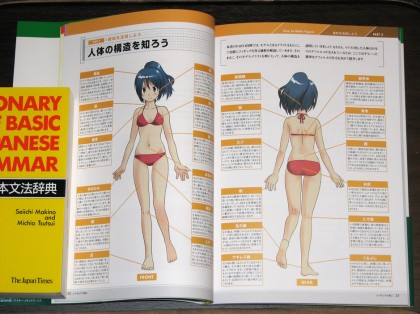 Part three also includes a small lesson on anatomy covering everything you really need to know. Anatomy is the most important thing when creating human images after all.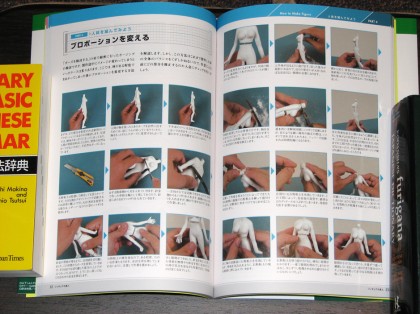 Part 4 is where all the major work begins and is the longest chapter in the book. In this lesson, we begin with creating a wire frame and applying polymer clay to the skeleton to make a rough model of the body. From there we learn how to remove excess clay to sculpt the body and add small details such as appendages. This section is quite detailed and has tips I would have never thought of like actually cutting the figure and filling in the cuts in order to correct its standing posture.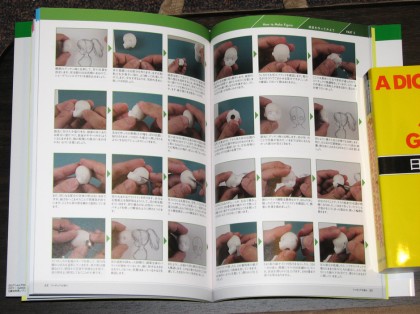 The next biggest section is five and covers the head-sculpting process. I personally think that this is the most important and difficult step because of all the little detail work involved. The fact that human brains are rather acute when it comes to facial recognition makes getting the details down correctly even more important. This section does a pretty good job of introducing how to sculpt the skull and adding hair and everything else.
The last two sections deal with creating clothing for your new figure and finally painting it.
Overall this is a nice book for people who want to try making their own anime-style figures for the first time. To get the most out of this book, you should be able to read at least some Japanese but the plentiful pictures do well enough by themselves. You can get a copy of your own at Amazon Japan or possibly other places. I ordered mine from HLJ but they are currently out of stock.
Actually I have had some limited experience in trying to make my own figure in the past but this book definitely fills in the gaps in my knowledge. I have all the supplies needed to start making a new figure right away so I plan on doing that after I go home after exams. I'm not quite sure if I want to do an existing character or my own original one but I'm currently leaning towards the latter so that I can say I did everything including character design from scratch.