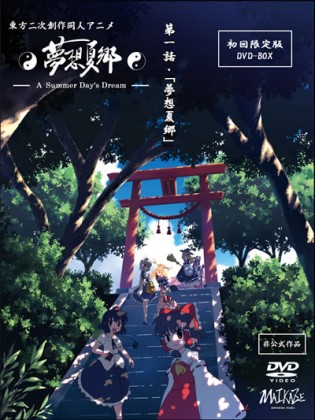 Maikaze's official website for their doujin Touhou anime is finally up. The first episode is entitled Musou Natsu: A Summer Day's Dream (東方二次創作同人アニメーション 第一話 夢想夏郷 A Summer Day's Dream). Of greatest interest of course is the small blurb about the story which I have translated below:
Hakurei Shrine's shrine maiden Hakurei Reimu together with Gensokyo's ogre Ibuki Suika were beginning to make preparations for a party. However, due to a certain incident that peaceful ordinary day will meet a rapid development. The newspaper reporter who caught wind of this incident Shameimaru Aya for some reason or another will bring the human magician Kirisame Marisa along. Will this story with the involvement of the residents of the Scarlet Devil Mansion move in a surprising direction…?

Original Japanese below:
博麗神社の巫女・博麗 霊夢は、朝早くから幻想郷の鬼
伊吹 萃香と共に宴会の準備に取り掛かっていた。
しかし、のどかな日常はとある出来事によって急展開を迎える。
事件の匂いを嗅ぎ付けた新聞記者・射命丸 文は、
なぜか人間の魔法使い・霧雨 魔理沙を連れて来る。
話は紅魔館の住人を巻き込んで意外な方向へ…?
The character section has sample artwork for the eight girls appearing in this production plus a short description and their respective voice actresses. The artwork looks nice and overall better than that featured in Sound Holic's attempt at a Touhou anime though some of the characters look a bit chubby. In particular everyone from the Scarlet Devil Mansion aside from Sakuya is a little on the plump side but I'm not complaining at all. Maybe Sakuya has been feeding everyone high-calorie meals lately. Interestingly enough, Hong Meirin's CV is left blank. I wonder if this means she doesn't have a speaking role or maybe that Maikaze got yet another big name to lend her voice to this work and want to surprise everyone on release day.
Here's the list of Seiyuu if you didn't already know:
Hakurei Reimu: Nakahara Mai
Kirisame Marisa: Sawashiro Miyuki
Shameimaru Aya: Fujimura Ayum
Ibuki Suika: Toyosaki Aki
Remilia Scarlet: Tsuji Ayumi
Izayoi Sakuya: Tanaka Rie
Patchouli Knowledge: Takahashi Mikako
Hong Meilin: ??
Narrator: Inoue Kikuko
A Summer Day's Dream will be released December 29 at Comiket 75 in a limited edition box set which will include in addition to the actual DVD a soundtrack CD, a 50 page full color compilation of art, backgrounds and the storyboard, DigiPack Case, 8 postcards and an actual box of course. I wonder if they will make this available online somewhere after Comiket 75 ends so that I can order it. If not, I may have to lurk around on auction sites if I want to snag me a copy of possibly the most controversial piece of Touhou merchandise ever.