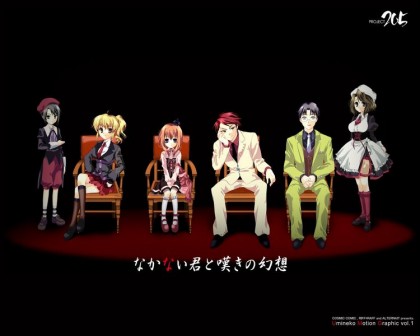 As the title says, today on the official site along with design sketches for their respective roles, a few more voice actors and actresses were revealed to be involved in the Umineko no Naku Koro ni anime adaptation. Suzumura Kenichi (Ushiromiya George), Kugimiya Rie (Shanon) and Kobayashi Yuu (Kanon) join the the previously announced Ono Daisuke (Ushiromiya Battler), Inoue Marina (Ushiromiya Jessica) and Horie Yui (Ushiromiya Maria) as part of the Umineko cast.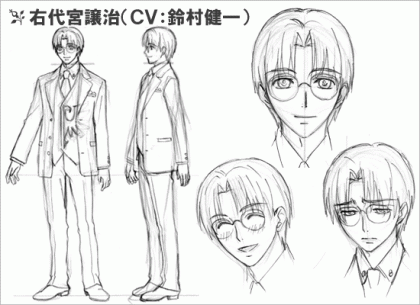 Ushiromiya George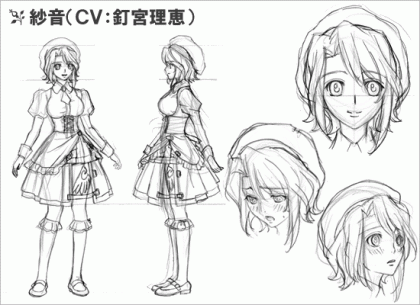 Shanon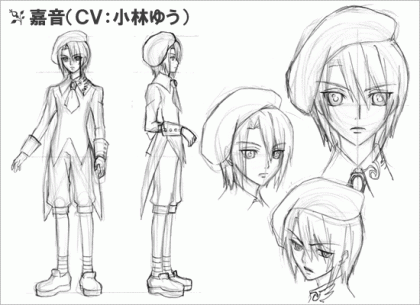 Kanon
In addition the website also unveiled more of the main staff which so far is as follows:
Original Work: Ryuukishi 07/07th Expansion
Director: Kon Chiaki (Higurashi no Naku Koro ni Series, Nodame Cantabile Paris Chapter)
Series Organization: Kawase Toshifumi (Higurashi no Naku Koro ni Series, Yami to Boushi to Hon no Tabibito)
Character Design: Kikuchi Youko (Junjou Romantica, El Cazador)
Animation: Studio DEEN
Production: Umineko no Naku Koro ni Production Committee
Kikuchi Youko's new redesigns look nice especially Shanon though Kanon doesn't look as shota as I imagined him to be. As for the Seiyuu themselves I've only really heard Suzumura Kenichi as Kokuto Mikiya from Kara no Kyoukai so I don't really know what to expect. On the other hand I remember Kobayashi Yuu very well from her roles as Houjou Satoshi and Sakurazaki Setsuna from Higurashi no Naku Koro ni and Mahou Sensei Negima respectively so I am sure not to be disappointed.
Of course the thing I am most excited about is the fact that Kugimiya Rie, one of my favorite Seiyuu ever, will be playing the part of the well-endowed Shanon. Too bad she isn't playing the role of Tsundere Tsundora Jessica though. This is making it harder for me to wait for the anime version as well as Episode 4 of the sound novel.