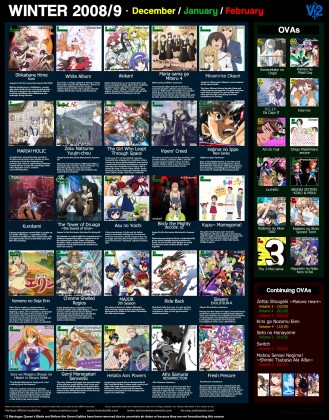 Compared to last season's incredible lineup, this season is looking a little sparse. Many of the new shows premiering in the coming weeks didn't really catch my interest and those that did are mostly sequels and or OVAs. That isn't too say there aren't any gems but I will be playing the waiting game before diving into any new properties. Anyways, onto my watch list.

Definitely Watch
Probably Watch
Sora wo Kakeru Shoujo – With the same staff as the Mai series and iDOLM@STER Xenoglossia, I am expecting a fun high-energy show like Mai-Otome. It will at least tide me over until whenever the next Mai series airs.
Minami-ke Okaeri – Although I was initially turned off by the first episode of Okawari, after watching episodes 3 through 6 over the past weekend, I opened up to it. Okawari may not be as good as the first series but it was entertaining enough for me to take another chance and watch Okaeri.
May Watch
White Album – The premise of a guy dating a rising idol singer sounds like there could be some good drama in store. However without much more than just this description, I'm not sure if I want to get into this just yet.
So far it looks like I will be watching only 6 new television series and another 5 OVAs this season so I should have plenty of time to do a little catch up on my endless backlog whether it be anime or drawing or something crazy like schoolwork.