The 12th official Touhou shooting game has finally been announced with a title that makes it sound like either an amazing mystical relic or one hell of a calculus problem. According to the official blog, the trial will be available at Reitaisai on March 8th and Second Player Miko Sanae will be joining Reimu and Marisa as a playable character. This time it looks likes Binbou Waki Miko Reimu and company will be chasing after a rumored flying treasure ship.



I wish there was a closeup of the new character that Reimu is fighting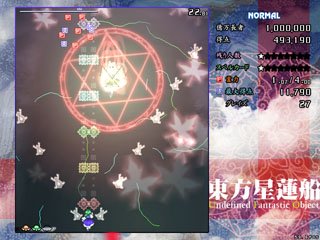 I'm kind of sad that Sanae is not shooting pentagrams of awesomeness

Is it just me or is Marisa shooting a UFO?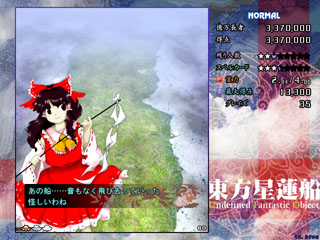 Holy Crap! I think Zun may have gotten better at drawing lol

Looks like the return of some old Spell Cards.
Undefined Fantastic Object is looking good so far but with with a story that involves flying ships I have no choice but to call it out right now – at least one Moe Pirate Touhou. With his statements about a certain Touhou anime, I won't forgive Zun if he doesn't deliver on at least this much.
(I swear he gets his great designs by getting wasted while sitting next to a box of crayons and some paper and looking at what he drew when he isn't hammered.)