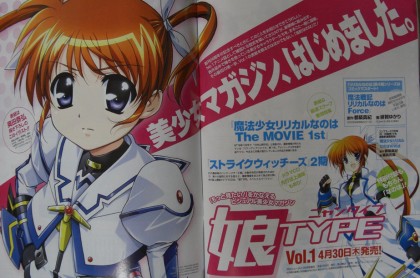 In the latest issue of Kadokawa's new magazine Nyantype, the fourth installment in the Nanoha universe has been announced to be published in said magazine. The new story is titled Mahou Senki Lyrical Nanoha Force and Takamachi Nanoha is now 25 years old in this series. The first issue will be released on April 30th and will feature art from Higa Yukari who has worked on the manga Holy Hearts! and the manga version of Shina Dark.
As a hardcore Nanoha fan (this blog is partly named after the series after all) I am excited about the announcement but at the same type hope that the series will be more like the first two rather than StrikerS which had a few interesting points such as weapon upgrades but overall did not live up to expectations. Hopefully being in the manga format issues such as pacing will be fixed. At the very least I want less training and few new characters. These were some of the biggest issues from StrikerS. Introducing new recruits is understandable so undergoing training is a given in the context of the setting but that doesn't mean that it has to be shown all the time. I also didn't like how important characters from the previous series either became rather minor or just plain didn't show up. Where's Hayate not doing desk work!?
As hinted in the change in title from Mahou Shoujo to Mahou Senki (Senki roughly translates as Military History), I hope this manga will mark in a change for the better and go back to its roots.