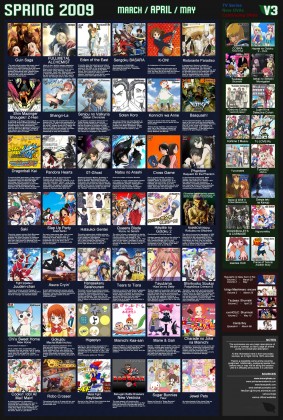 With a little less than a month left until the official start of the spring season, I felt it was time to finally compile my anime watch list. Compared to this season it looks like I will be viewing more new anime but that won't be a problem since several series from the fall and winter seasons that I am keeping track of will end in the following weeks. Anyways, onto my choices:

Definitely Watch
Probably Watch
May Watch
Asura Cryin' – A semi-serious action story based on a light novel about a guy haunted by a ghostly girl who seems to be his childhood friend. Though I know nothing else, this type of paranormal activity maybe enough to interest me and keep me entertained.
PandoraHearts – I honestly don't remember how I heard about this initially or why I was interested in it but I can't get the name out of my head.
Will Watch Eventually
Spice & Wolf II: Wolf and Amber Melancholy ~ Episode 0 – I watched the first few episodes of the first series but haven't gotten around to finishing it yet so I'll wait until I get through it. I did enjoy it though so finishing it shouldn't be too hard.
ToHeart2 adplus – I have the entire canon of the ToHeart anime but have yet to watch even a single episode so this will have to wait until whenever I finish everything else.
With the notable exception of Hayate no Gotoku, all the sequels I will be watching are limited to OVA releases leaving all the original content for the television series. In total I will be following as many as 10 new TV anime plus 5 OVA episodes which fits nicely since 10 or so television series I am currently watching will end soon. With little prior knowledge of many of these new shows, I don't know how this season's lineup will end up but hopefully it will be filled with many fun surprises.