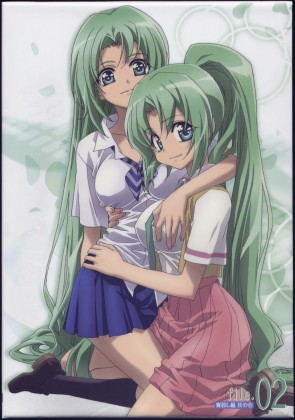 Normally I don't like to do episodic blogging but for an OVA of one of my favorite series ever, I can make an exception. Episode 2 starts off Saikoroshi-hen (Dice Killing Chapter) which is an epilogue for Matsuribayashi-hen (Festival Accompanying Chapter) and unlike the completely comedic Batsukoishi-hen (Penalty Loving Chapter) takes a much more series tone.

===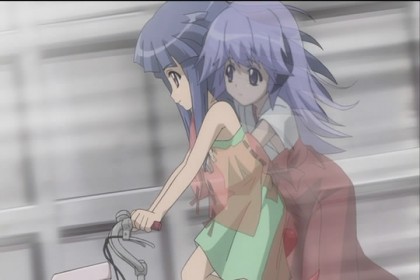 After finally obtaining the kakera that she has wished for for a millennium, Rika spends her days having fun with her fellow club members. At the start of the episode Rika and friends are on their way back from Okonomiya riding their bikes. Rika no longer wary of being killed ignores even Hanyuu's warnings and speeds ahead of everyone. Satoko yells at Rika telling her a car is coming and Rika doesn't believe it until it is too late.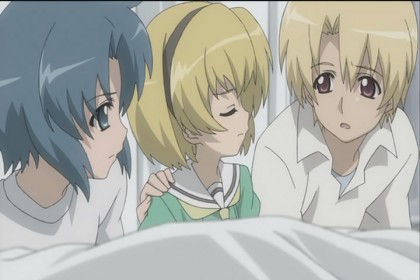 Rika awakens in the school infirmary to find Chie-sensei, Satoko and strangely enough Satoshi waiting. Rika is horrified by the idea that she died and once again returned to a new Hinamizawa. Chie-sensei tries to comfort her by telling her she hasn't died. At Satoshi's urging Satoko, who seems to dislike Rika, apologizes for hitting her with a ball sending Rika here in the first place.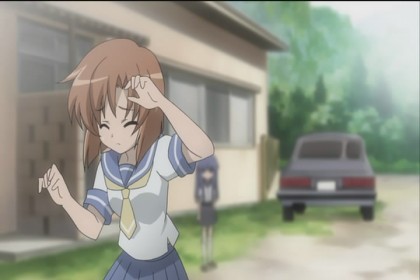 After the Houjou siblings leave the doctor arrives. At first Rika thinks it is Irie-sensei but it turns out to be someone she has never seen before. After inspecting Rika, things seem fine but they decide to go to the clinic just to make sure. On the way to the car, Rika notices that Rena and Mion are playing dodgeball outside. Rika takes note that both Rena and Satoshi are both present at the same time and concludes that she has arrived in a period between April and June 1982 (Showa 57).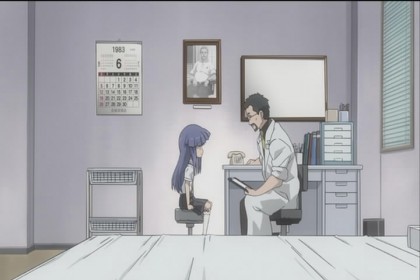 After arriving Rika sees a notice on the wall with the name Takano Clinic written at the bottom. Rika is terrified and tries to run away. She stops in front of the clinic's sign where the doctor finds her. Rika asks if there is an Irie that works here but there isn't. They go back inside the clinic to finish up the examination and Rika notices a picture of Takano Hifumi on the wall. She asks the doctor Yamamoto-sensei if their is a young woman going by that name also working here but there is no such person. After further inquiry Rika finds out that Okonogi is missing as well from this Hinamizawa and the Clinic is unaware of neither Hinamizawa Syndrome nor that Rika is the Queen Carrier. On her way out Rika sees a calender and is shocked to learn that it is in fact June 1983.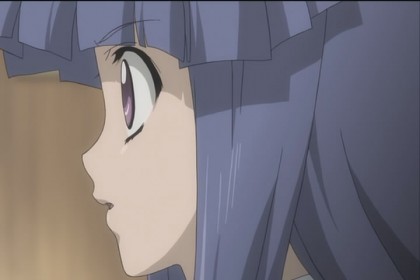 When she returns to school, Rika looks around the classroom and realizes that the man capable of creating amazing miracles, Keiichi, is not here either. Without Keiichi Rika thinks to herself that she has already lost from the very beginning but realizes that without the Irie Institution he's not needed. But why then has she returned to such a Hinamiwa Rika wonders.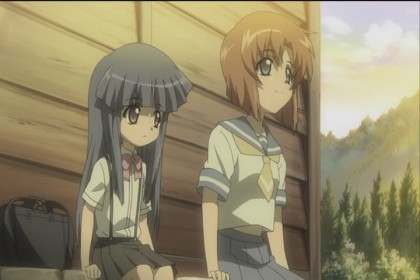 At the end of class, Mion wants to talk to Rika and she responds asking Mion if it has to do with club activities. Mion jokes around at the idea since the club apparently was never formed. Mion heads off to help her Uncle at the toy store and tells "Reina" to take care of Rika. On the way home according to Reina herself, Reina's parents never got divorced so she never left Hinamizawa thus Reina never had a reason to create her alternative persona "Rena". When asked about Satoko and her parents, Reina confirms that Satoko is not on good terms with Rika as well as reveals that Satoko actually likes her parents.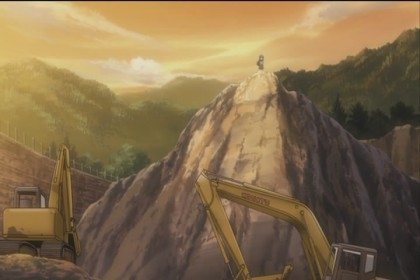 They pass by several closed down shops and Rika asks what has happened. From what Reina has heard about the incident, there was never any major conflict regarding the dam project much less a war and the town came to an agreement swiftly. Many shops are closing as construction is currently underway and things involving Oyashiro-sama's curse such as the dismemberment murder never occurred. Rika is dumbfounded by the numerous oddities in this Hinamizawa and pleads for someone to tell her.
===
I'm really enjoying Rei so far. It is very interesting to see how Rika reacts to this new situation after she had thought her thousand-year journey was finally over. I imagine for Rika who is used to reliving very similar Hinamizawas to be utterly confused by this kakera where nothing seems to have gone astray. Although I sort of know what will happen I'm still excited to see how the story will unfold.
PS: Will do the lyrics for the Super scription of data (OP) and Manazashi (ED) when the singles are released.