物語
Story
緑化都市、風祭。文明と緑の共存という理想を掲げたこの都市に住む天王寺瑚太朗は神戸小鳥、吉野晴彦らの友人たちと平凡な日々を送っていた。そんな平和な風祭市に、年一回の騒がしい時期が訪れようとしていた。都市を上げての収穫祭。巨大な文化祭のようなその催しに瑚太朗は記事のネタ集めのバイトを始めることに。風祭では未確認生物の情報や、オカルトチックな噂がまことしやかに囁かれていたからだ。同時期、瑚太朗の身に不可解な出来事降りかかり始める。瑚太朗はオカルト研究会の部長千里朱音に助けを請い、知り合いの生徒たちをも巻き込んでの調査を開始するのだった。それは瑚太朗にとって、ちょっとした冒険心のつもりだった。騒がしく仲間たちと過ごしていけるなら、それで良かった。瑚太朗はまだ気付かない。それが誰も知らない『真実』の探求へ*がっていくことを。
–書き換えることが出来るだろうか。彼女の、その運命を。
Afforestation, Kazamatsuri. Living in this city which touts an ideal where civilization and greenery coexist, Tennouji Kotarou, Kanbe Kotori, Yoshino Haruhiko and everyone spent ordinary days. In such a peaceful Kazamatsuri City, the yearly celebration arrived–A harvest festival to raise the city. In that massive culture festival-like event, Kotarou starts collecting news material part-time. It is because in Kazamatsuri, gossip of mysterious animals and occult rumors were being spread as the truth. Simultaneously Kotarou begins falling into an inexplicable incident. Kotarou requests assistance from the Head of the Occult Research Society, Senri Akane, and gets other students involved by starting investigations. That as far as Kotarou is concerned was the plan of petty adventurous spirit. If he were able to go with his boisterous friends that would be wonderful. Kotarou has yet to notice. That reality that no one knows.
–Could it be possible to Rewrite that girl's fate?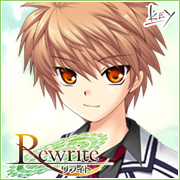 天王寺 瑚太朗
Tennouji Kotarou
主人公。人を食ったような性格で、ややお調子者気味。本人は意識していないがかなりの世話焼きでもある。色々と首を突っ込みたがる性格のせいか、最近よく不可解な事件に巻き込まれる。
The Protagonist. Biting personality and somewhat easily elated. He is unaware of it himself but he is also a meddlesome person. As the result of his curious personality, he has frequently gotten involved in mysterious incidents lately.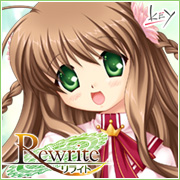 神戸 小鳥
Kanbe Kotori
瑚太朗の大親友。小さくて元気いっぱい、小動物いっぱい女の子。ガーデニングの才能と霊感がある。昔からいつも瑚太朗と一緒に行動していたせいか、友達は少ない。持ち前のノリのよさで、瑚太朗とは漫才のようなノリ会話を繰り広げる。
Kotarou's best friend. A small and energetic girl with lots of small animals. She has gardening ability and inspiration. As a result of working together with Kotarou for the longest time, she has few friends. As a virtue of her nature, comedic conversations unfold when with Kotarou.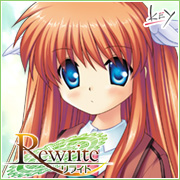 鳳 ちはや
Ohtori Chihaya
瑚太朗の通う学校に究然転校してきた少女。世間知らずの箱入り娘で、パワーファイター。かなりのドジっ子で瑚太朗にいつも助けられてばかりだが、素直なれない性格で瑚太朗とは口論が絶えない。周りからは瑚太朗に気があるようにも本気で嫌っているようにも見える。
A girl that transferred to the school Kotarou attends. A girl who has led a sheltered life and ignorant of the ways of the world, a Power Fighter. A considerable klutz, she always has Kotarou come to the rescue but with a personality that can't become accustomed to being docile, the quarreling with Kotarou won't cease. From her surroundings it appears as if she has both an interest in Kotarou and seriously loathes him.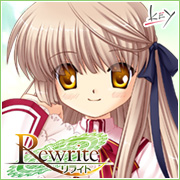 千里 朱音
Senri Akane
『学園の魔女』と呼びされるオカルト研究会の部長、校内では超法規的な存在として一部生徒には有名。儚げな外面からは想像つかない、瑚太朗以上に人を食った性格と、微妙に地味な内面を持つ少女。何か裏のありそうな言動か目立つが、その実録誰も知らない。
Called the "Witch of the Academy," the head of the Occult Research Society is famous within the school as a super law-like existence among a portion of the students. With a fickle outward appearance that doesn't accede the imagination, she displays an arrogant personality towards Kotarou and others but carries a delicately plain inside. She probably has another side to her speech and conduct that stands out but that truth no one knows.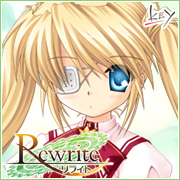 中津 静流
Nakatsu Sizuru
主人公の後輩で、風紀委員会に所属している。無口素直な性格。言葉がなくても振る舞いで伝わる。感情表現の豊かな少女。風紀委員らしい活動はほとんどしないが、瑚太朗にかまって欲しいという理由で取りをすることがある。眼帯はオッドアイを隠すためのもので、親しい人の前でしか外す事はない。さんまが好物で溺愛している。
Kotarou's kouhai and a member of the Public Morals Committee. Taciturn, docile personality. Even without words, her thoughts can be conveyed through her behavior. A girl that expresses an abundance of emotions. She mostly doesn't do Public Morals Committee Member-like activities but with a pretext of wanting someone to look after Kotarou she takes them on occasion. Her eye patch is to conceal her heterochromia and she only removes it in front of people she is close with. She dotes on her favorite dish pike.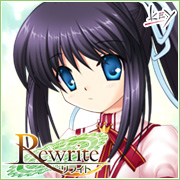 此花 ルチア
Konohana Lucia
周囲のクラブにもその名が知れ渡るカリスマクラス委員長。潔癖症気味で男子に対する免疫が極端にない。瑚太朗の起こす騒動によく巻き込まれ、結果瑚太朗に制裁を加える日々を送る。凍とした態度と辛い物好き(彼女しか食べられないような激辛メニューが学食にある)で周囲にはおなじみだが、本人は余り前に出たがらない。
Even in surrounding clubs the name of the Charisma Club Committee Charmain (iinchou) is well-known. With a clean freak-like attitude, she lacks an extreme immunity against facing boys. As a result of frequently getting involved in Kotarou's continued refusal against waking up, she inflicts punishment on him on a daily basis. With a chilly attitude and spicy curiosity (like the the super spicy menu from the cafeteria that she can't eat much of), the surroundings are familiar but before she herself didn't want to go out much.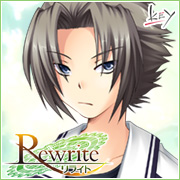 吉野 晴彦
Yoshino Haruhiko
自称「狂犬」というアウトロー。時代錯誤な発言から瑚太朗によくいじられている。孤独を愛し、クールを気取るがいまいち演じ切れない三枚目。執拗に瑚太朗と「決着」を付けたがっている。
Self-proclaimed outlaw "Mad Dog." Because of his anachronistic speech, he is often touched by Kotarou. He is a comedian that loves solitude and puts on an air of coolness but not very good at acting.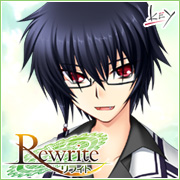 鳳 咲夜
Ohtori Sakuya
ちはやの自称「兄」。だが血の繋がりは無く執事という立場で色々と世話をしている。女生徒や吉野に対しては大らかな兄のような態度を取るが、なぜか瑚太朗にだけは冷たい。尋常ならざる身体能力と知識、どんなものでも平然と用意して見せる怪しいコネを併せ持つ、完全無欠の執事。
Chihaya's self-proclaimed "Big Brother." However he shares no blood relation and holds the position of butler in which he takes care of various things. In regards to female students and Yoshino, he takes on a magnanimous older brother-like attitude but for some reason he is only cold towards Kotarou. No matter what with an unhealthy ability and knowledge he displays a calm and prepared charming connection, a flawless butler.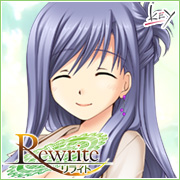 西九条 灯花
Nishikujou Touka
瑚太朗たちか通う学校新任教師。軽く能天気な性格で、生徒からの人気は男女ともに高い。いつもニコニコしていて優しい先生だが、赴任以前からの知り合いである静流を溺愛する傾向がある。
A new teacher at the school Kotarou and company attend. With a lightly optimistic personality, her popularity among the students is high between both boys and girls. She's a kind teacher that is always smiling but has a tendency to dote on an acquaintance from before her new appointment.
Note:
風祭 – Not really sure if this is read as Kazamatsuri.