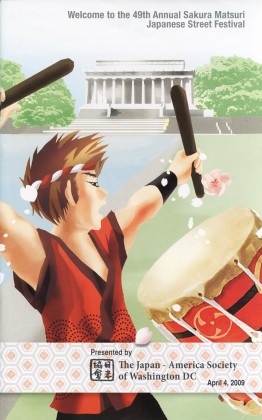 Yesterday me and a bunch of friends took a trip to Washington DC to attend this year's Sakura Matsuri. For those who do not know, Sakura Matsuri is the largest one-day exhibition of Japanese Culture in the United States and is part of the two-week National Cherry Blossom Festival sponsored by the Japan-America Society of Washington DC.

In an attempt to make it in time to for the parade scheduled to run from 10am to 12am, we gathered together at the college student-unfriendly time of 7am. Originally there were supposed to be 15 party members but for some reason a driver and four other people did not show. The ten of us that bothered to wake up on time decided to just leave without them (we joked throughout the day about the vanishing car). We split into two groups and departed at 7:20am heading for the Vienna/Fairfax-GMU Metro Station.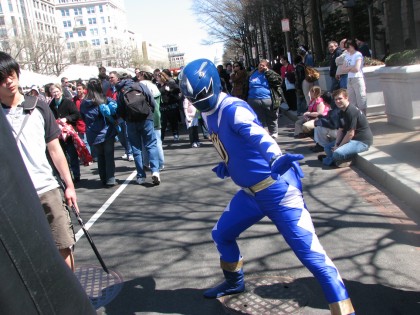 Guided by the power of GPS and a little sleepiness the two-hour ride to the station was quite relaxing. We listened to some tunes for the first half of the ride. We enjoyed a little iDOLM@STER at the beginning and had a conversation about the games and then switched to Citrus's mix and at one point the two of us achieved harmony singing along to FLOW's WORLD END. For the second half of the ride driver Zanaikin popped in CD 1 of the audio book version of Steven Colbert's I Am America (And So Can You!) which gave us laughs until we finally reached our destination and found a spot at the parking garage. My favorite line: "The only good thing about the old days was that the Cubs would sometimes win the World Series. The rest was just Nazis and disease."
Unfortunately for the other car, they overshoot the exit and had a difficult time going back. Those of us in the first car decided to meet up with a former club member before saving some spots in the ridiculously long line to get into other lines that extended from within the actual station to the parking lots. By the time we made it to the entrance of the station, the other party members showed up. After a painfully tedious time getting our Metro passes we hopped on board the rail. Thankfully we got on rather early and were able to find enough seats for all of us because soon the cars became crowded; not much of a surprise since this is the seconded busiest day for the Metro System trailing only the Fourth of July. During this time I kept on getting calls from yet another member already in DC and decided to stop answering them so as to not incur roaming charges.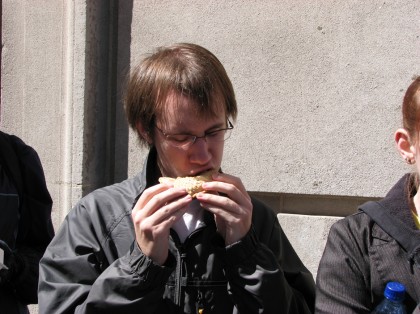 After the harrowing ride into the city, we got off at Federal Triangle right in the middle of the celebration; it was so crowded that we had to regroup several time before we actually made it back to street-level. By time we made it back to the surface the parade had just ended so the first order of business was to hit up lunch before the lines became impossibly long. The lot of us headed down 12th Street and got in line for a stall selling 4 "yaki's": taiyaki, yakisoba, okonomiyaki and takoyaki. after shelling out for our food we found a spot away from the crowds where we ate our food.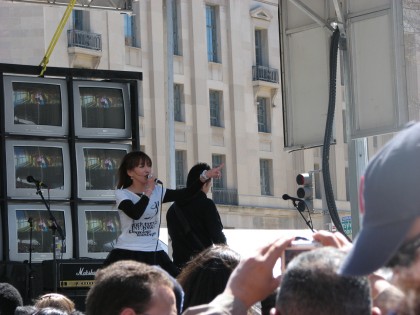 After consuming our food we split into two groups to explore the other stalls and events. Compared to last year, it seems that we spent most of our time at things we didn't see last year. At both ends of Pennsylvania Avenue two stages were set. One showcased more traditional performances while the other served as a small venue for more modern acts.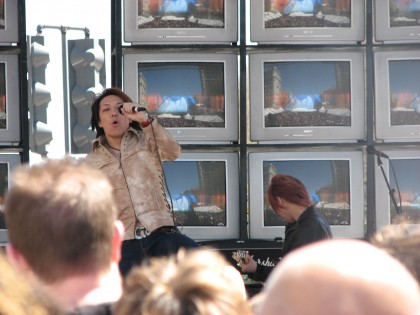 Kawashima Ai was performing when we arrived but it was somewhat hard to listen to given the crowds. Unfortunately I'm not actually familiar with her songs at all so I have no clue what she was singing. Next on stage was Psychic Lover performing some of their tokusatsu songs.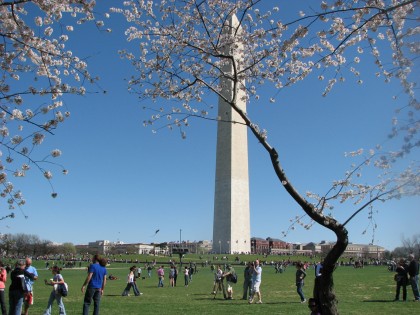 After a while of walking around and taking the occasional picture or two, we met up again to do what we weren't able to do last year, take photos of the sakura. The flowers were in full bloom this time around so we decided to rest and take our time taking photos and talking.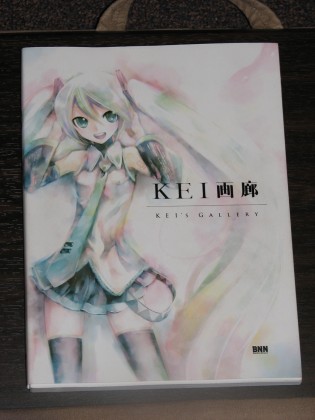 After our break we want back to the street festival one more time to make sure we didn't miss anything. We went to the Kinokuniya stall and I found some artbooks I liked but decided to only get one. I purchased KEI's Gallery featuring artwork from Vocaloid 2 character designer KEI. I spent US $37 for something that only cost 2380 yen originally but I don't regret it. I'll probably make a post about it some other time.
We hopped back on the Metro at the worst possible time catching the rail at the same time as people commuting back home from DC. We tried to avoid too much crowding by going a different route than last time but we ended up wasting more time because we missed the station we were supposed to be transferring at. After finally making it back to the vehicles we drove to Annandale, a cty famous for its ridiculously high Korean population, for dinner at an American restaurant. Tired after the long day, we headed back to school while listening to the latter half of Colbert.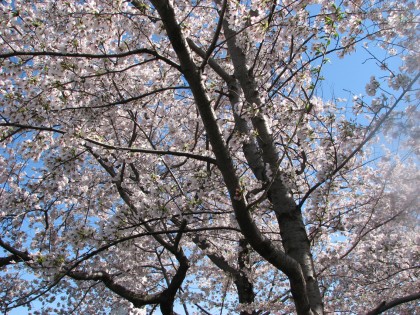 Although there were a few hitches this year's trip went better than last year. For one we actually were able to see the blossoms and the weather became better throughout the day. There were some strong wind gusts but that was nothing compared to last year's early day showers and heat. Whenever we tried to travel as a single group without exception we would leave only to realize we were missing exactly one person. Thankfully we didn't manage to lose anyone with the exception of the missing car. Hopefully next year will turn out as well. I wonder what special events they will have considering it will be the 50th anniversary.