Right now, Gundam fans around the world are celebrating the official 30th anniversary of the appearance of the original RX-78-2 Gundam (which was today, by the way), so I figured I would do my part with a review of my recently-completed 1/100 scale Gundam Avalanche Exia Gunpla!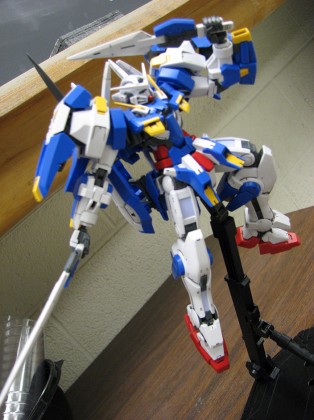 Officially, this is a no-grade kit released by Bandai and Hobby Japan, but the quality is comparable to the High Grade 1/144 Gundam Exia kit that's currently on the market. It's also the only mobile suit from the Gundam 00V side story to receive mass-market release as a kit, which gives it a bit more of a collectible quality.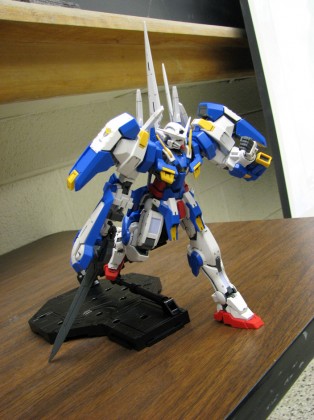 I'm no expert when it comes to Gunpla, but I've built my share of models by now, and by comparison I have a lot to praise about this kit. Bandai's line of kits for the 00 Mobile Suits are definitely some of their best yet, regardless of which scale or grade you choose. Avalanche Exia is much more poseable even than most of the recent Gundam SEED kits, and might even be on par with some Master Grades in terms of all the different ways you can display it! The completed model is particularly flexible in the legs, which have two joints in the knee to allow for full kneeling poses, and in the feet, which have separate heel joints to allow for better balance and subtle enhancement of flying and running poses.
In terms of gimmicks, Avalanche Exia is loaded to the hilt – literally! All seven of Exia's swords (which can all be equipped on the Gundam at once) are included, none of which are more fun than the switchblade-like GN Sword, which comes with an option piece that inserts directly into the Gundam's arm to help it keep its grip on such a large weapon. Unlike my Wing Zero Custom, which can only manage a limp grasp on its huge Twin Buster Rifle, Avalanche Exia can pose freely with the GN Sword with no problems. Additionally, the huge auxiliary packs on the Gundam's shoulders can fold open to reveal GN Condensors within.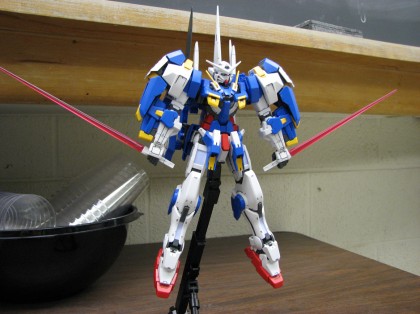 In terms of detail, Avalanche Exia is more or less on par with what you'd expect from a non-MG 1/100 kit. There are, however, a lot of panel lines on the model, like most of the 00 kits, so when fully lined the Gundam looks a lot more detailed and complex than older mobile suits, and on the whole can be a real eye-catcher.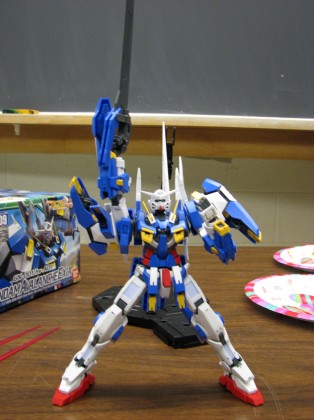 There are a few things that keep the kit from being perfect, of course. The extra armor on the skirts and the shoulders limit some of Exia's fantastic poseability. The shoulder-to-arm connection is unusual compared to other models and makes me worry that the arms might come off while I'm posing them. And a few parts on the completed model require large decals to achieve correct colors without painting, although these parts are mostly on the backside of the Gundam and may escape notice if your Exia is strategically displayed.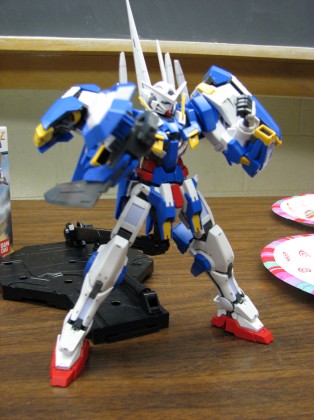 As for my own work on this particular model, I'm fairly proud of it. I feel like I did a good job of filling in the key panel lines without making them too thick or abundant, and I had extra tools this time around to help me cut and file pieces to get rid of the remnants of those pesky sprues. Because I don't know how to use an airbrush, I didn't use any paint on this model, even though Exia's facemask needs to be outlined in grey and several pieces need to be touched up with additional yellow trim for a truly "correct" look – it bugs me a lot, and I'll definitely want to learn painting skills before I attempt too many more Gunpla projects. Still, I think that this is overall a clean and attractive piece of work that I have no problem displaying at home or here on Lyrical Spark, and in my entire collection is probably second only to my 1/100 Turn A Gundam.
I really wish I could have taken some better photos and some detail shots, too, but I'm not really a photographer by trade – I was using a borrowed camera, and this is my first time displaying my Gunpla online. But I'll do better next time, I promise!
If you want your own 1/100 Gundam Avalanche Exia, you can buy it here (HobbyLink Japan). The kit also includes parts to build the base model Gundam Exia, but if you're going to spend the extra money for this special kit, why would you want to do that?
P.S. Happy 30th Anniversary, Gundam! Here's to many years of Mobile Suits to come!