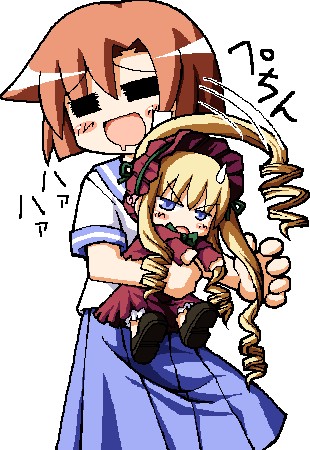 According to Dengeki Online, KONAMI announced a new game for the Sony PSP entitled "Ookamikakushi" to be directed by Ryukishi07 of Higurashi fame with character design left to manga-ka duo PEACH-PIT. The title is a play on words and roughly translates to "Hidden by the Great God" or "Hidden by the Wolf" and in typical Ryukishi07 fashion will be a serious mystery novel. Date of release and price have yet to be announced.
Here's my rough translation of the story summary from the official site:
A God? A Wolf?
The old town's concealed law…Fear and mystery blend together.
The summer of Showa 58 (1983). Everyone's expectations become entangled by the repeating nightmare and 10 stories become chained together…What in the world is the truth!?
Original text below:
神か? 狼か?
旧市街の隠された掟…恐怖と謎が交錯する。
昭和58年夏。繰り返される悪夢に人それぞれの思惑が絡み合い、10のストーリーが連鎖する…真実はいったい何なのか!?
The description is very vague right now but I'm excited for this game since I love Ryukishi07's stories but of course what makes this particularly appealing is one reason–it will most likely actually have good art.