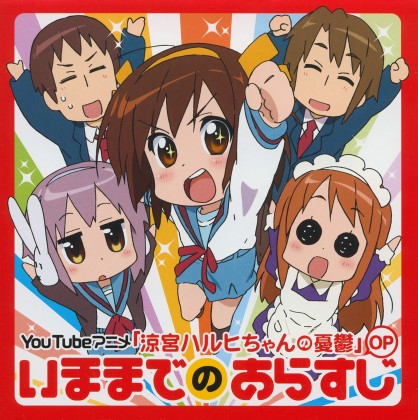 The ending song will follow in a few.

Romaji
Myaa Myaa Myankology de
Jinrui mya? to TOREBIA~N!
Tatoeba jishaku Suna no naka ni ha
Uchuujin ga chikyuu shibu nite Teatime
Chicchai to fuben da Okkii no dashite yo
Senkan Yamato dare ka ugokashite
DA BA DA BA DAA Gyuu'nyuu nonde
SHA BA DA BA DA Hayame ni shuushin
DA BA DA BA DAA Otona ha kitto kossori henshin
Kaijin DAAAA Hottokya ii jyan
Soutou DAAAA Shirei ha naani?
Seifuku DAAAA Kanji ga hen da!
Ka-meha-meha-
Meido Meido MEIDO no miyage
Sorya mou Shangri-la no sokkurisan
TAIMU MASHIN tedzukurimashita
Toki wo aruku shoujo oikoshita
Taikutsu taikutsu taiiku suwari de
Hiza no nioi wo kagu tousui kan
TAIMU MASHIN hitori nori desho
Rekishi nurikaetara (~soushuuhen!)
Kimi ha tsumari kanjouron bakari de koto wo sara ni fukuzatsu ni shite oru
Kimi ha sude ni takkansha na no sa to ieba sumu ka kanpeki na baka da
Uma uma u Shika shika shika?
Mau mau ma Kashi kashi kashi!
Sorenari ni Sorenari nari Torihada?
Ai yue ni Atama yurun de Koi yue ni Kokoro yugande
Samidare no Sora mo to doro ni Hototogisu
Maite maite maitara iranai
Musen LAN ra ra ra ra sou natta
Mori yo mori yo mori no donguri hiroiatsumeta ato mushi waku yo
Toshi ha toshi wo oikoshite yuku
Sore mo atarimae no gyoukaidan
Hyouri ha ura ga omote de Igai haragurosa ga saishouchi
Myaa Myaa Myankology de
Jinrui mya? TOREBIA~N!
Nyaa Nyaa Nyankology de
Shourui nya? Nyu nya nyu nya~n!
Nani yori mo kimi ga suki da Toshi yori mo kimi ga suki da
Aishiteru Kimochi warui ze sawaruna
Aishinasai Muchakucha yuuna Aishimashou yasashiku yuuna
Aishiaou Kocchi wo miru na Tsudzuki ha? Tsudzukanai!
SORICHUU SORICHUU sorry,sorry,Solitude.
Mawari teki darake de Sangokushi
SORICHUU SORICHUU sorry,sorry,Solitude.
Ukiwa tsubushita mama EA suiei
SORICHUU SORICHUU Meido ha SORICHUUDO
Sorya mou Shangri-la ni icchaeba?
SORICHUU SORICHUU MEIDO ha SORICHUUDO
Ashi no nioikeshi ha MENSOORU
Owari owari sorosoro owari
Konna nagai kashi ha iya da
GYARA ni Awanai tsukareru shigoto
Naka no hito no tsurasa kangaete
Chigau chigau honto ha chigau
Koko ha nijigen desu Ni, Ji, Gen.
Omote Omote omote ga omote rekishi asai ne mada chounouryoku
Kiroku nurikaetara (~2 KUURU!)
Kanji
みゃー みゃー みゃんこlogyで
人類みゃ? とれびあ~ん!
たとえば磁石 砂の中には
宇宙人が地球支部にて Teatime
ちっちゃいと不便だ おっきいの出してよ
戦艦大和だれか動かして
ダバダバダー 牛乳飲んで
シャバダバダ 早めに就寝
ダバダバダー 大人はきっとこっそり変身
怪人ダァァー 放っときゃいいじゃん
総統ダァァー 指令はなーに?
制服ダァァー 漢字がへんだ!
かーめはーめはー
冥土冥土メイドのみやげ
そりゃもう Shangri-laのそっくりさん
タイムマシン手作りました
時を歩く少女 追い越した
退屈退屈体育座りで
膝の匂いを嗅ぐ陶酔感
タイムマシン一人乗りでしょ
歴史塗り替えたら 【~総集編!】
君はつまり感情論ばかりで事を更に複雑にしておる
君はすでに達観者なのさと言えば済むか完壁な馬鹿だ
うまうまう しかしかしか?
まうまうま かしかしかし!
それなりに それなりなり 鳥肌?
愛ゆえに 頭ゆるんで 恋ゆえに 心ゆがんで
さみだれの そらもとどろに ほととぎす
巻いて巻いて巻いたらいらない
無線LANららららそうなった
森よ森よ森のどんぐり拾い集めたあと虫わくよ
年は歳を追い越してゆく
それもあたりまえの業界談
表裏はウラがオモテで 意外腹黒さが最小値
みゃー みゃー みゃんこlogyで
人類みゃ? とれびあ~ん!
にゃー にゃー にゃんこlogyで
生類(しょうるい)にゃ?にゅにゃにゅにゃ~ん!
なによりもきみがすきだ としよりもきみがすきだ
あいしてる きもちわるいゼ さわるな
あいしなさい むちゃくちゃゆーな あいしましょう やさしくゆーな
あいしあおう こっちをみるな つづきは? つづかない!
ソリチュー ソリチュー sorry,sorry,Solitude.
周り敵だらけで三国志
ソリチュー ソリチュー sorry,sorry,Solitude.
浮き輪つぶしたままエア水泳
ソリチュー ソリチュー 冥土はソリチュード
そりゃもう Shangri-laに行っちゃえば?
ソリチュー ソリチュー メイドはソリチュード
足の臭い消しはメンソール
おわりおわりそろそろおわり
こんな長い歌詞はいやだ
ギャラに合わない疲れるしごと
中のひとのつらさ考えて
ちがうちがうほんとはちがう
ここは二次元です に、じ、げん。
表 オモテ 表がオモテ歴史浅いねまだ超能力
記録塗り替えたら【~2クール!】