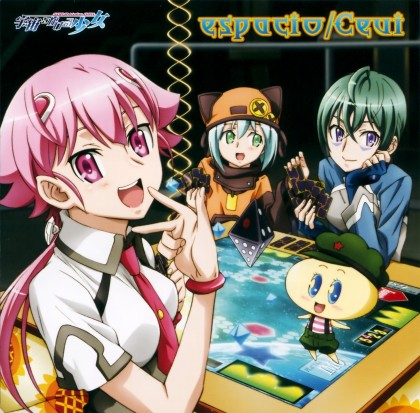 I promise I will get back to writing non-lyrics posts soon…maybe. Depending on my mood I may also do a few more songs later namely Spiral and Link (OP and ED for Asura Cryin' respectively). Anyway I also gave my try at an English translation for this song since I've been obsessed with SoraKake lately for some reason that I don't even know. Enjoy~!

Romaji
Yomigaeru itami ni nagasarenagara
Samayotte bokura ha doko he yuku n darou
Natsukashiku atataka na sora Sono mabushii keshiki he egaita maboroshi ha
Yurete kieta Tooku
Hodokenu kodoku wo dakinagara Sore de mo inotteru
Dare mo ga onaji Kibou no otozure wo
Yami no kakera ga Taezu boku no Mune ni tsukisasaru
Kimi to iu hikari Tada Shiritai yo
Oshiyoseru kioku ni oboresou ni naru
Sakaratte itsuka ha mokutekichi wo shireru no?
Tsukinukeru kanjou no ryuushi Chiisana sonzai ga sakebu Motto hiroi basho he
Souzou sae koete
"Tsuyosa" no imi sae wakarazu ni Sore de mo shinjiteru
Kimi to meguriau Kagayaku asayake wo
Hirogari tsudzukeru Kono sekai de Miushinawanai you ni
Hyaku oku kounen no hate Te wo tsunaide yo
Haruka naru Kanata de mitsuketa DAIYAMONDO yori azayaka na kirameki~
Hodokenu kodoku wo dakinagara Sore de mo kanjiteru
Mou sugu hajimaru Kibou no otozure wo
Yami no kakera ga Taenai kara Asu wo omoeru n da
Kimi to iu hikari Ima Kidzuita yo
English Translation
I wander aimlessly while drowning in the pains of rebirth
And wonder where are we going?
The illusion painted across this dazzling view of the nostalgic warm sky
Swayed and disappeared far away
Like everyone I continue to pray for calls of hope
While embracing this untied isolation
A fragment of darkness constantly pierces my heart
I only want to know the light that is you
It's like drowning in memories I had cast aside
Will I defy it and discover my destination someday?
If only just to exceed our expectations
My small existence is shouting to breakthrough this grain of sentimentality to a more vast place
I don't even know the meaning of "strength" but I still believe
In that chance meeting with you
As we lose sight the sparkling colors of the sunrise continue to spread throughout the cosmos
Hold my hand until the end of these ten billion light-years
In the distance I found a glitter more brilliant than a diamond~!
I still feel the calls of hope about to begin
While embracing this untied isolation
I think of tomorrow knowing that the fragment of darkness won't cease
Now I've realized the light of you
Kanji
甦る痛みに流されながら
彷徨って僕らはどこへゆくんだろう
懐かしく暖かな空 その眩しい景色へ描いた幻は
揺れて消えた 遠く
解けぬ孤独を抱きながら それでも祈ってる
誰もが同じ 希望の訪れを
闇の破片が 絶えず僕の 胸に突き刺さる
君という光 ただ 知りたいよ
押し寄せる記憶に溺れそうになる
逆らっていつかは目的地をしれるの?
突き抜ける感傷の粒子 小さな存在が叫ぶ もっと広い場所へ
想像さえ越えて
「強さ」の意味さえわからずに それでも信じてる
君と巡り会う 輝く朝焼けを
拡がり続ける この宇宙で 見失わないように
100億光年の果て 手を繋いでよ
遥かなる 彼方で見つけた ダイヤモンドより鮮やかな煌きー
解けぬ孤独を抱きながら それでも感じてる
もうすぐ始まる 希望の訪れを
闇の破片が 絶えないから 明日を想えるんだ
君という光 今 気づいたよ