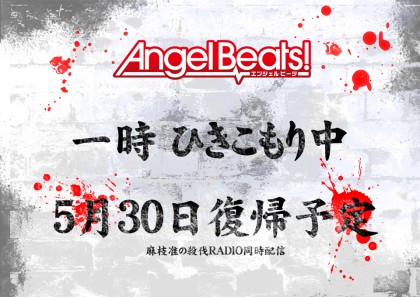 While checking the official Angel Beats! Website for possible news and updates following the Dengeki G's announcement, I found it inaccessible save for the top page that was replaced with the image shown above with the following text:
一時ひきこもり中
5月30日復帰予定
麻枝准の殺伐RADIO同時配信
Roughly this translates to:
Temporarily in the middle of being withdrawn (from the public)
Plan to return May 30th
Maeda Jun' Bloodthirsty Radio will simultaneously be transmitted
Could the possible downtime of the site signal a large unveiling of new information about Angel Beats! or is it just being updated with the information already published in Dengeki G's. It seems strange though to limit access to the site and have a simultaneous radio broadcast if it is just old news so I'm betting there will be some sort of new announcement. Of course it could just be a complete site redesign in which case I maybe overreacting due to copious amounts of Key fandom but hopefully it truely is more new information on Angel Beats!