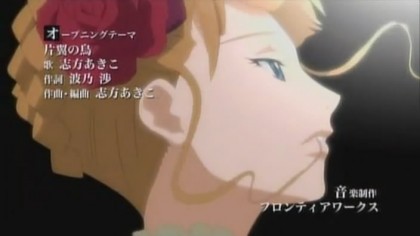 I don't normally do TV size lyrics but considering that I've been on a 07th Expansion translation frenzy lately, I decided I might as well. The reason I don't usually do TV size cuts is because I can't guarantee the same accuracy from listening and transcribing as I can from looking at lyrics booklets. Anyway I am pretty confident that this is mostly accurate. Special shout out to atlantiza for helping me figure out two of the lines. Enjoy.
EDIT: Updated with some changes from this site.

海鳴りの調べに この雲は空へ集う
Uminnari no shirabe ni Kono kumo ha sora he tsudou
At the melody of the rumbling sea these clouds gather in the sky
嵐を呼ぶ風は高らかに
Arashi wo yobu kaze ha takaraka ni
Loudly the wind calls the tempest
謎めく言の葉に 魔女たちは含み笑う
Nazomeku kotonoha ni Majotachi ha fukumi warau
With enigmatic words the witches sneer at the hidden meaning
歪な夜の宴は繰り返す
Ibitsu na yoru no utage ha kurikaesu
The banquet of this warped night repeats again
奈落へと落ちる 金色の蝶を
Naraku he to ochiru Kin'iro no chou
Descend to hell golden butterflies
幾つの罪で羽を濡らしていくの
Ikutsu no tsumi ni hana wo yurushite yuku no
With how many sins are the feathers tainted?
泣かないで 囚われた幻想を壊し
Nakanaide torawareta Gensou wo kowashi
Don't cry; Smash this illusion of your imprisonment
一度きりの終焉をあげよう
Ichido kiri no shuuen wo ageyou
For a moment I'll give you a reprieve from your demise
果たせない 約束は胸の奥 焦げ付いた
Hatasenai yakusoku ga mune no oku kogetsuite
This unachievable promise is burned onto the inside of my chest
あかくあかく爆ぜていくよ
Akaku akaku hateteku yo
Go spurt brilliant red