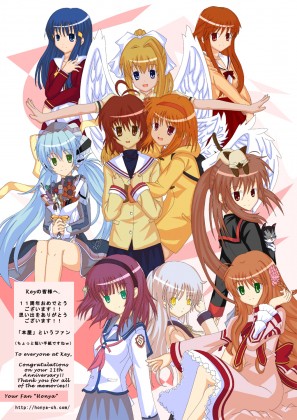 Today is my favorite company Key's 11th anniversary so for the past few weeks I've been working on a drawing to submit as part of Cloud668's 10th Anniversary Letter Project. Basically messages and illustrations addressed to Key to commemorate their 10th Anniversary will be compiled into a letter to be sent on the release date of the Key 10th Memorial Box compilation.
Key is probably the most important creative influence in my life affecting things like how I write stories and plan characters. I can thank Maeda Jun for introducing me to some of my favorite characters, stories and music. Out of Key's main staff though Hinoue Itaru in particular is responsible for the change in my art over the years and you can see some of her style in this picture. I really wish my dream job of working with her doing art for Key would come true.
I really wanted to show my appreciation to Key to its fullest so I spent the longest time I have ever spent on a single drawing working to make this as perfect as I could so I paid meticulous attention to detail. The version I posted is only 4% the size of the orginal which is a ridiculous resolution of 5100 x 7200px.
Since I wanted to make this the greatest anniversary drawing ever I included the main heroines in EVERY Key series to date starting with pre-Key Moon to the unreleased Angel Beats with only one slight exception. At the top corners are the heroines from the Tactics' games Amasawa Ikumi (Moon.) and Nagamori Mizuka (One: Kagayaku Kisetsu he). Technically I could also add Minase Manami from Dousei but I don't really consider that a Key game since the first true gathering of Key's main staff occurred during Moon's time frame. In the middle are the heroines from all released games under the Key label: Tsukimiya Ayu (Kanon), Kamio Misuzu (Air), Furukawa Nagisa (CLANNAD), Hoshino Yumemi (planetarian: Chiisana Hoshi no Yume) and Natsume Rin (Little Busters!). I decided against adding Tomoyo since Tomoyo After is more of a side story to CLANNAD than its own real story. On the very bottom are the heroines from the unreleased Key series Kanbe Kotori (Rewrite) and Yuri and Tenshi (Angel Beats!).
There is still much more I wanted to do with this illustration but my ambition had to fight time so I decided it's better to send something to Key than not. I'll keep working on this drawing and I plan to add more references to Key's work such as Sora (Air) and Miss Jena (planetarian); at the very least you can see Piro (Kanon) on top of Rin's head. Overall though I am very happy with this drawing and I really do think that I truely conveyed how much I love Key. (I think I might offer prints for sale when I completely done but I don't know how many people would actually buy it other than me to hang in my room.)
I hope Key continues to release top-quality stories and characters for many years to come. Thank you for the memories Key!!