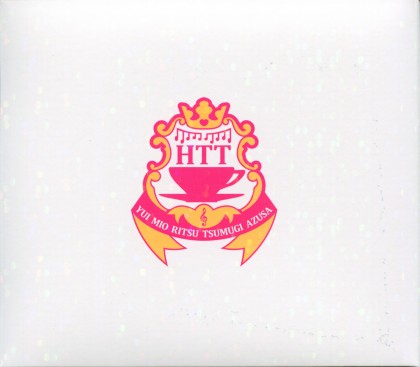 Here's the second song on K-ON's Ho-kago Tea Time CD set. Watashi no Koi ha Hotchkiss is a nice song about a girl who expresses her feelings by writing them down and stapling the sheets together until she can't anymore. Fudepen ~Ballpen~ will follow in just a bit.

Romaji
Nan de nan daro
Ki ni naru yoru kimi he no
Kono omoi Bin sen ni ne
Kaite miru yo
Moshikashite
Kimagure kamo shirenai
Sore na no ni maisuu dake
Fuete yuku yo
Suki no kakuritsu waridasu keisanshiki
Areba ii no ni
Kirakira hikaru Negaigoto mo
Guchagucha he taru Nayamigoto mo
Soo da HOCCHIKISU de tojichao-
Hajimari dake ha karui nori de
Shiranai uchi ni atsuku natte
Mou hari ga nan da ka tooranai
LALA mata ashita
Dou shiyou kana
Yomikaesu no Hazukashii
Arekore to Bin sen ni ne
Kaita kuse ni
Kimochi goto
Gomibako yukija nan da ka
Kono mune ga setsunai kara
Motte you kana
Ima no kimochi wo arawasu
Jisho ni mo nai kotoba sagasu yo
Wakuwaku shichau keikaku toka
Gudaguda sugiru Tenkai toka
Zenbu HOCCHIKISU de tojichao-
Kyou no dekigoto Omoidashite
Itsumo kokoro ga Kyun to natte
Mou hari ga nai kara kawanakucha
LALA mata ashita
Kirakira hikaru Negaigoto mo
Guchagucha he taru Nayamigoto mo
Soo da HOCCHIKISU de tojichao-
Hajimari dake ha karui nori de
Shiranai uchi ni atsuku natte
Mou hari ga nan da ka tooranai
LALA mata ashita
English Translation
How was it?
That night I had you on my mind
This feeling
I'll try writing it down in a letter
Perhaps
Maybe this is just a whim
But even so it's only a few sheets
I have to keep writing!
A calculated formula probably derived from love
I wish I had it and yet…
A sparkling request
And a messy worry
That's it! Let's bind them together with a stapler
It's just the beginning but I'm feeling light
Before I knew it, it was too thick
I can't put in anymore staples
Lala See you tomorrow
What should I do?
I reread it; It's embarrassing!
This and that
I wrote it all!
These feelings
Need to go into the trashcan
My chest aches
Maybe I should just hold onto them
I'll express my current feelings
I'll search for words not even in dictionaries
Completely excited plans and
And exhausted developments
Let's bind it all with a stapler
Remember today's events
My heart is always tightening
I no longer have any staples so I need to buy some more
Lala See you tomorrow
A sparkling request
And a messy worry
That's it! Let's bind them together with a stapler
It's just the beginning but I'm feeling light
Before I knew it I was too thick
I can't put in anymore staples
Lala See you tomorrow
Kanji
なんでなんだろ
気になる夜 キミへの
この思い 便せんにね
書いてみるよ
もしかして
気まぐれかもしれない
それなのに 枚数だけ
増えてゆくよ
好きの確率わりだす計算式
あればいいのに
キラキラひかる 願い事も
グチャグチャへたる 悩み事も
そーだホッチキスで とじちゃおー
はじまりだけは 軽いノリで
しらないうちに あつくなって
もう針がなんだか通らない
ララ☆また明日
どうしようかな
読み返すの はずかしい
あれこれと 便せんにね
書いたくせに
気持ちごと
ゴミ箱行きじゃなんだか
この胸が せつないから
持ってようかな
今の気持ちをあらわす
辞書にもない言葉さがすよ
ワクワクしちゃう 計画とか
グダグダすぎる 展開とか
ぜんぶホッチキスで とじちゃおー
今日のできごと 思い出して
いつも心が キュンとなって
もう針がないから買わなくちゃ
ララ☆また明日
キラキラひかる 願い事も
グチャグチャへたる 悩み事も
そーだホッチキスで とじちゃおー
はじまりだけは 軽いノリで
しらないうちに あつくなって
もう針がなんだか通らない
ララ☆また明日