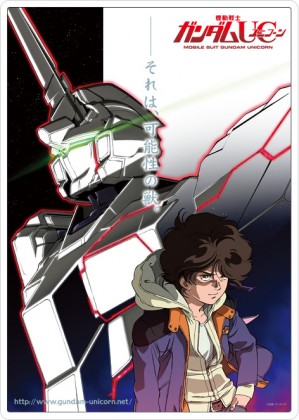 With the apparent lack of any new mecha series in the coming fall season, as well as the absence of any new Gundam animation this year despite the 30th anniversary of the franchise (though we did get that cool statue), I was getting a little impatient to hear something from the Sunrise/Bandai camp. Luckily, they delivered with an announcement confirming a 6-episode OVA release for Mobile Suit Gundam Unicorn in 2010.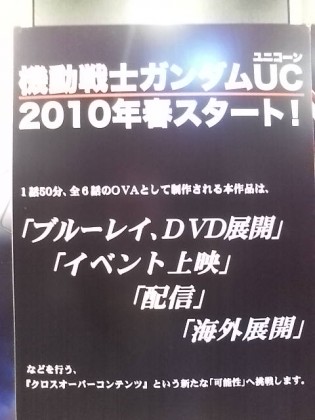 It's not exactly news that Gundam Unicorn, already a popular series of light novels in Japan, is being animated; that was confirmed quite  a while ago, but there had been no information as to whether the project would take the form of a movie, a TV series, an OVA, or even an OAD.
According to the author of the novels, Fukui Harutoshi, the OVA will adapt material from the first 2 volumes of the series. There's talk that the OVA will be simultaneously released in the U.S., Korea, and Japan, but nothing's confirmed right now as far as I know. If there is a U.S. release pending, it's probably too much to hope that the light novels will be brought over as well…
I'm feeling more excited about this announcement than anything else, although I can't help wishing for a little bit more. With just 6 episodes (even if they are set to be 50 minutes apiece) a cliffhanger is inevitable, and for those of us who aren't willing to make a translation project out of the novels (I'm not), we'll be left wondering what happens next. At least the inevitably high production values will make Katoki's mecha designs look good on-screen.
Either way, the Gundam Unicorn OVA will resonate with UC fans and should make a good tandem with the upcoming Gundam 00 movie. It looks like 2010 will be another banner year for fans of the franchise.