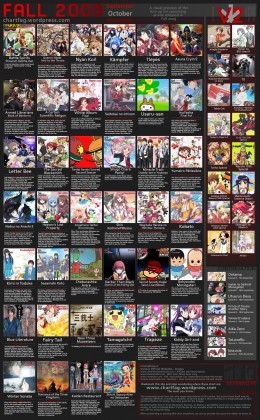 Since there's about a week or two until the fall season starts, its time for the usual roundup of shows I'll be looking forward to. I tried to keep the number of new shows low so I can finish the stuff I'm already watching but things don't always work out for me that way. Anyway onto the list:

Definitely Watch
Definitely Watch (OVA/Movie)
May Watch
Letter Bee – Thematically this reminds me a lot of Shigofumi which I highly regard. The main reason I put it here instead of in the definite category is that I have yet to watch the special episode from last year. After I watch it I'll make my final decision.
Kiddy GiRL-AND – I don't know if it's actually good but I've always wanted to watch Kiddy Grade. Luckily Kiddy GiRL takes place two centuries after Kiddy Grade so hopefully it won't require me to have knowledge of the prequel. If that's the case I'll jump in.
Asura Cryin' 2 – I'm extremely behind on the first season so watching the sequel is completely dependent on finishing the original. I remember Asura Cryin' having some interesting concepts but I also remember being confused out of my mind.
Looking back it seems like I could be watching 6-9 new series. However I expect that number to fall by quite a bit for various reasons. During summer season I basically temporarily lost interest in most anime so I didn't end up watching most of what I said I would. I tend to watch less anime when school is not in session so maybe that was it. We'll see what happens this season and hopefully I can catch up on last.