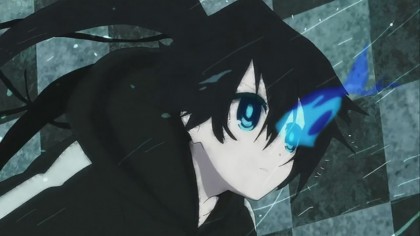 When I first heard that Black★Rock Shooter, a Vocaloid song, would be getting its own anime next spring I was excited but dumbfounded. How can you base an entire television series on a four minute PV even if it will be predominately action-based? At first I thought that BRS would feature the Vocaloid cast in an alternate world fighting it out with each other or some other faction but after watching the anime PV it looks like it will be a little different than I imagined.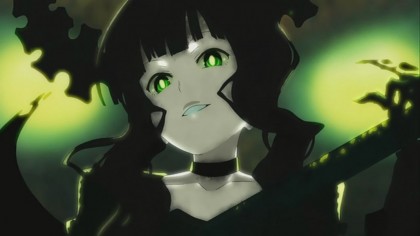 Apparently the titular character Black★Rock Shooter is some sort of non-Vocaloid high school student who I am guessing can transform to do battle. Pretty standard fare but the animation looks quite good. Everything is quite detailed while still maintaining the same visual style as the original PV. The only other thing really relevant revealed in the PV is some sort of villian who I don't recognize. It looks like my theory of Vocaloids transforming into darker versions is out of the window. Before anyone mentions it, I know BRS was an original character illustrated by huke that only later became entwined with the Vocaloid series after it later inspired ryo to compose the song of the same name. That said it doesn't really matter to me as this looks quite promising either way.
Black★Rock Shooter -Pilot Edition-

Black★Rock Shooter PV

Seeing the new PV's has sort of reminded me that despite being a Vocaloid fan I have yet to actually buy any related merchandise. There are two figures I'm interested in. The first is the1/8 Black Rock Shooter which perfectly captures the original illustration and all-around looks plain cool especially with the pose and giant cannon. The other one I like is the 1/8 Hatsune Miku "World is Mine" figure which too perfectly embodies the original drawing for "World is Mine." What really struck me about this particular figure though is that it comes in a picture frame and can be hung on a wall. Lastly there's the PSP game Hatsune Miku: Project Diva which I have heard is quite good. I can probably hold off on that for now as figures tend to be harder and more expensive to get after the initial launch. Now I just need to find a place I can still pre-order BRS from.