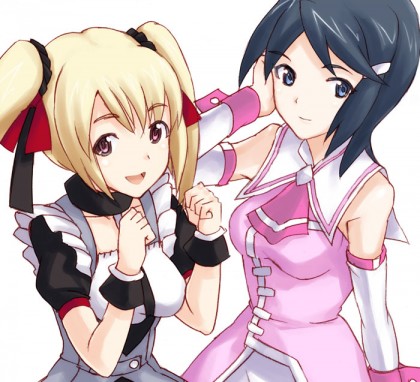 It seems the appeal of newly acquired games is impossible for me to resist so while taking a break from translating I decided to play a little more iM@S Dearly Stars. Things were going along smoothly in Lesson mode as I trained Eri's stats so that everything was more or less equal. I also was making good progress delivering a decent number of perfect responses during the promotion events so I got to see as Eri made improvements in her singing ability and confidence.

The only major snag was during Eri's practice singing test when Eri's producer Ozaki made a comment that pretty much said that online friends are unimportant. Right before that Eri was happy saying that she got the strength to sing from her friend online so I was extremely pissed at Producer Ozaki at this point and responded with the most negative response I could which was "you're talking way too much" AKA Japanese for you need to shut up. Afterward Ozaki spewed out more stuff that enraged me so basically I don't really like her character at all.
Anyway after this story event the audition option opened up and I was pretty confident that I would pass it. Obviously by the title of this post I failed hard. The next scene I saw was Eri talking to her friend Cyneria online and she comments that Eri has been in front of her computer a lot recently. The conversation shifts to Eri's new movie and she talks about how many special effects she used. However Cyneria wants to know if this time it includes singing since she's been looking forward to it for a while. Eri morbidly says that it doesn't and she will never do one since no matter how hard she practices she can't sing. After a depressing talk the screen shifts to a black background with white text mirroring the beginning of Eri's story and once again states her name as ELLIE, a girl who exists only on the net.
Needless to say I was really upset with myself and how I ruined Eri's self-confidence. My failure caused her to regress back into a hikikomori and give up on something that she was getting better at and starting to like. After getting such a terrible end at the very beginning of the game I owe it to Eri to support her even more.