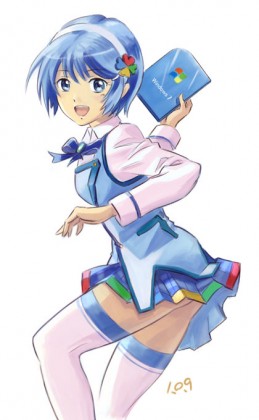 Several days after Windows 7's launch I have finally got it up and running on my desktop and I'm glad to say that it seems to live up to its hype. It combines the things I like about the two previous iterations of Windows with good updates to keep it from feeling too much like a rehash of Vista. Microsoft seems to have hit a success with a genuinely good product that fixes the issues both inherent and perceived that many people had with Vista.

The hardest part of trying to install 7 was not even the installation itself. Rather it was trying to burn the right DVD so that I could install 7. I got my copy of 7 through Microsoft's student discount program which is a download with the option of a hard copy so I bought both just in case. On the day of release I downloaded the package but after it was complete I found out that it was two archive files and an executable that unpack into an expanded setup directory with 3GBs worth of files. I tried to run the setup executable but couldn't since I was using XP 32-bit and trying to go to 7 Pro 64-bit so I had to make a boot disk instead.
After several attempts of trying to burn a disk that would actually boot I found a solution to the problem that an amazing number of people have run into due to a poor handling of distribution. Anyway after making a working bootable disk I was finally able to install the OS. I deleted my Windows XP and Windows Vista OS partitions and combined them into a much larger 7 one. The actual process starting from install confirmation to typing in first use information such as username and what not took only 20 minutes. It was a surprisingly quick install considering how it seems to take longer to install XP and Vista whenever I've had to.
I was also astonished with how speedy start up was and I was able to search my hard drives in no time. The only real hitch was that 7 didn't have drivers I could use for my wireless card which was a pain since I don't have an Ethernet cable going to my room so I couldn't go on the internet to get drivers so I could go on the internet. I lugged my heavy desktop upstairs which interestingly enough is a lot harder than it sounds since I have to go outside the house to go upstairs and for unspecified reasons I don't feel like explaining did a reinstall.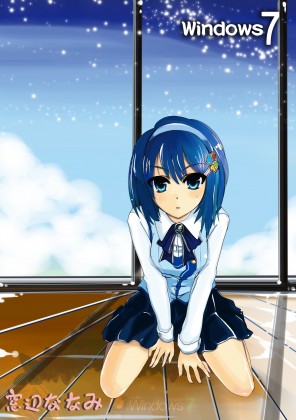 After the OS was running I ran into no problems and it was completely smooth sailing. The first thing I did was have 7 automatically find and install the correct drivers for all the devices that needed them which it did perfectly followed by the general OS security updates. Afterward I installed 64 bit versions of the bare essential programs I use when possible and settled for 32 bit for everything else which is not a hassle since Windows creates a separately labeled program files folder for x86 programs. Lastly I did some customization like adding the Nanami Themepack and more importantly adding Japanese IME keyboard support and changing my computer to Japanese local.
Overall 7 seems to be much cleaner in design in almost all aspects. The most striking change for me was the change in the way the taskbar handles windows. By default only the icons are displayed on the taskbar and multiple instances of related windows are stacked on top of each other. This may seem hard to navigate but after mousing over an icon 7 will display a preview of all related windows and will also display the corresponding window in the background if the preview is selected. Furthermore programs can be pinned to the taskbar in a similar fashion as the old quick launch which together with the icon view cleans up the taskbar quite a bit.
Other improvements that stood out to me include but by no means are limited to an updated calculator and sticky notes. After having the exact same functions for who knows how long Microsoft finally updated the calculator with more advanced modes such as stats and scientific. This may seem like a minor update but for a science major such as myself the ability to use the new calculator for a quick calculation or in a situation in which I don't have my graphing calculator makes things more convenient. I haven't used sticky notes that much yet but I can see it becoming very useful over time. I currently just type notes in txt files which clutter my computer with open windows or desktop icons so having digital sticky notes would be a great alternative.
Of course the main reason I even switched to 7 in the first place was the improved performance overall. From what I can tell 7 starts up, shuts down and goes to sleep quite fast. Start up in particular is impressive due to the way 7 handles things. Instead of trying to load everything at once 7 loads the essentials and leaves everything else for later or as needed reducing the initial load time. On the general 7 runs less things in the background reducing resource usage and increasing overall responsiveness. All programs seem to be running well and thanks to Virtual PC if I ever run into any problems with them I can just run them in XP Mode.
Aside from the issues related to the installation files which weren't related to the OS itself, 7 seems to be a big step in the right direction for Microsoft. I haven't been so impressed by Microsoft software since I got OneNote. 7 was well worth the price I paid for it and now I'm going to also install it on my tablet PC.
Basic PC Specs (for reference)
AMD Athlon X2 4200+ @ 2.42 GHz
6GB DDR2 RAM
GeForce 8800 GTX
Windows Experience Index (Range: 1.0-7.9)
Processor – 5.3
Memory – 7.0
Graphics -6.6
Gaming Graphics – 6.6
Primary Hard Disk – 5.9
Not bad for a 3 year old computer (and yes I know this isn't as good a real benchmark but I have no need to run one anyway)
PS: I watched Kimi ga Nozomu Eien on my 7 desktop connected to a projector with Citrus and Aorii afterward as celebration but that will require its own massive post sometime later.