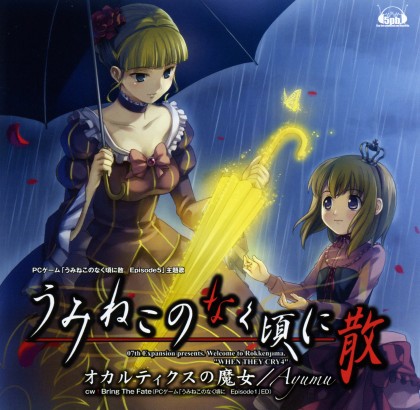 I hope everyone in the US enjoyed this Thanksgiving. Aside from relaxing I decided to translate Umineko's new theme song today. This one was interesting to work on but I think it turned out well. Right after the translation I added a bunch of translation notes since I noticed a bunch of stuff while working. I hope you enjoy it.

Romaji
Kono sekai ni chirabaru OOBU Shikaku ni todokanu mono
Jittai no nai Kansokusha Zenchi wo mitasu
Kurikaesu PENDURAMU Wazuka sukoshi no fujun douki
Seimei no ki no kajitsu ha Tsuchi ni ochita
Mahou no you ni Fushizen de Kyouki jimita kono gishiki ga
Jin wo egaku fudesaki de Kanaeru no nara Sekai goto hitei suru
IRUMINAATO "Sore" ha marude subete wo Misukasu you ni
Furachi na chikara de Azawarai Shifuku ni mitasareyuku
IRUMINAATO Sakuran suru byousha de "Koji" suru hodo
Zenchi no chikara ha Kutsugaeri hagare ochi yuku
"Shikumareta kiseki" he to
Tozasareta shinpishugi Soko ni umareta tsuukagirei
Akogare no majo Gouriteki Genjutsu no TABUU
Aozameta umatachi ga kakeru Giten wo yurushi tamae
Ryuurei na kaze Joui naru Chouchou no mai
Mahou no you ni Me mo kuramu Akumu ni nita hinichijou ga
Tsue no saki no hitofuri de Ayatsuru no nara Mirai goto hitei suru
IRUMINAATO "Sore" wo katsute shinpi to Agameta koro
Ooinaru ai de tsutsumikomi Fukuin wo motarashita
IRUMINAATO Me ni mienai "Kiseki" ga Futsugou nara
Ikutsuka no kagi ga bokutachi wo michibiite yuku
"Banbutsu no Riron" he to
IRUMINAATO "Sore" ha marude subete wo Misukasu you ni
Furachi na chikara de Azawarai Shifuku ni mitasareyuku
IRUMINAATO Sakuran suru byousha de "Koji" suru hodo
Zenchi no chikara ha Kutsugaeri hagare ochi yuku
"Shikumareta kiseki" he to
"Zero ni naru kiseki" he to
English Translation
Within the orbs scattered about this world lie those without sight
Immaterial observers satisfying their omniscience
The pendulum swings back and forth with a slightly impure motive
The fruit of the tree of life fell to the earth
If like magic this unnatural, deranged ceremony grants you a brush tip to paint your attack
The multitude of worlds shall be denied
Illuminate! "That" which will see completely through it all
Ridiculing you with an insolent power, satisfying itself with supreme bliss
Illuminate! "Showing" you a depiction that will confuse you
The power of omniscience will crumble
Into a "Constructed Miracle"
From that locked mysticism was born a rite of passage
The longed for witch, logic and taboo witchcraft
The white knights shall advance; please forgive me for this incredulous ceremony
The butterflies dance as the elegant breeze strengthens
If like magic the darkening nightmarish impossibilities swing my staff once
The multitudes of futures shall be denied
Illuminate! "That" single mystery and revered moment
Wrapped in an immense love that brought forth the gospel
Illuminate! If this unseen "miracle" is an inconvenience
A few keys shall show us the way
To a "Theory of Everything"
Illuminate! "That" which will see completely through it all
Ridiculing you with an insolent power, satisfying itself with supreme bliss
Illuminate! "Showing" you a depiction that will confuse you
The omniscience power will crumble
Into a "Constructed Miracle"
To the "Miracle that shall become Zero"
Translator's Notes
a brush tip to paint your attack – This line is a reference to "magic." More specifically it most likely refers to the red and blue text that Beatrice and Battler use or the attacks that trace loci across the air as used by the Seven Stakes of Purgatory, Siesta Sisters, etc. Chances are though that it is the latter since 陣 (which I translated as attack) means battle formation which makes sense since Battler takes command of Beatrice's furniture I think. (I'm just judging from fan art since I haven't actually read Episode 5 yet)
The white knights shall advance – This literally means "the pale horses will run." Obviously this is a chess reference so I changed it to indicate the progression of this insane game.
please forgive me for this incredulous ceremony – In this line ceremony (儀典,giten) is written with a different set of kanji than normal. Instead it is written as 偽典 which would roughly mean a fake ceremony.
brought forth the gospel – Astute readers of Umineko might have caught onto this one. Although Fukuin (福音) means good news or the gospel it is also the name of the orphanage that Shannon and Kanon grew up in. I don't remember if it was mentioned in the anime but it was clearly stated during Episode 1 in the sound novel and manga. Perhaps this is a clue to solving the mystery…
"Theory of Everything" – This has a double meaning. Of course it refers to a theory that explains all of the Rokkenjima incident that Battler and Ange seek but it is also the name of a physics framework that would tie together all physical phenomena. This would constitute combining quantum mechanics and general relativity and as 07th Expansion fans know quantum mechanics underlies the probabilistic nature of the Higurashi/Umineko multiverse.
"Miracle that shall become Zero" – This refers to Kanon's monologue in the boiler room before being killed by Beatrice in Episode 1. In his speech he says how he will tear down this ceremony by becoming the special space on the roulette which is neither red nor black.
Kanji
この世界に散らばる オーブ 視覚に届かぬ者
実体の無い 観測者 全知を満たす
繰り返すペンデュラム 僅か少しの不純動機
生命の樹の果実は 土に落ちた
魔法のように 不自然で 狂気じみたこの儀式が
陣を描く筆先で 叶えるのなら 世界ごと否定する
※ イルミナート "それ"はまるで全てを 見透かす様に
不埒な力で 嘲笑い 至福に満たされ行く
イルミナート 錯乱する描写で "誇示"するほど
全知の力は 覆り剥がれ堕ちゆく
「仕組まれた奇跡」へと-
閉ざされた神秘主義 そこに生まれた通過儀礼
憧れの魔女 合理的 幻術のタブー
蒼ざめた馬達が駆ける 偽典を許し給え
流麗な風 上位なる 蝶々の舞
魔法のように 目も眩む 悪夢に似た非日常が
杖の先の一振りで 操るのなら 未来ごと否定する
イルミナート "それ"をかつて神秘と 崇めた頃
大いなる愛で包み込み 福音をもたらした
イルミナート 目に見えない"奇跡"が 不都合なら
いくつかの鍵が 僕達を導いてゆく
「万物の理論」へと-
※ repeat
「ゼロになる奇跡」へと-