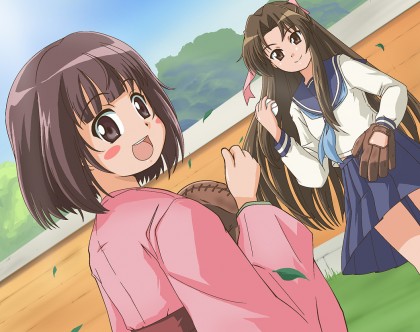 Despite having a load of free time during Thanksgiving I didn't really watch much anime even though it is customary for me to marathon a series or two. Strangely that urge to catch up came later than usual after I had already returned to school. Having caught up on Sasameki Koto for my next project I decided I might as well begin Taishou Yakyuu Musume which I never got to over summer. I started a little after midnight Tuesday morning and after a couple of episodes it took all my willpower to force myself to bed. Anxious for more I ate lunch in my room so I could sneak in an episode and watched in between and after classes until I finally finished at about 9:30 PM the same day. Needless to say I absolutely loved the anime and all of its characters.

My initial interest stemmed from watching the promo for it way back ago and learning of its unique setting. Unlike many anime these days which are set in modern Japan Taishou Yakuu Musume as its name implies takes place in Taishou 14 (1925) in an era when women were expected only to focus on housekeeping and being subservient to men. Seeing the possible potential for a good story I was excited to watch this and the anime didn't disappoint. The girls of Taishou Yakyuu Musume prove that girls can do "what the boys do"–baseball.
After a baseball player makes a crass remark that women should only do feminine things rich girl Akiko in her determination to prove otherwise starts gathering players for her own team at her all-girl school Touhou Seika with her friend Koume. Since girls are not expected to do such things the first obstacle the duo must face is gathering enough players. Though interested students are scarce through their continued effort and display of enthusiasm they are able to recruit their team. Though they meet disapproval initially by certain faculty they are eventually recognized as the Ohka-kai by the school with support form teacher Anna Curtland.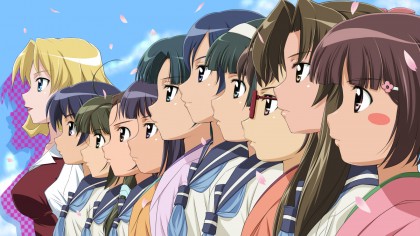 Each person plays an important role on the team whether it is as pitcher or catcher, hard-hitter or outfielder producing a vibrant team dynamic and interesting development.
Ogasawara Akiko is Ohka-kai's pitcher. She's not naturally inclined at sports but through sheer determination she improves her speed and accuracy and learns to throw trick balls that even the boys can admire.
Catcher Suzukawa Koume just like Akiko lacks skill at first and can't catch very well at all. However she puts all her effort into training developing a strong connection with Akiko and an intuition into how the opposing players will bat.
Kawashima Noe is the brain's of the operation. She often takes notes during practice and thinks of ways to improve team performance.
Souya Yuki actually has some practice playing baseball having played during elementary. She has solid skills and in addition acquires much of the equipment the team needs to build a sense of solidarity.
Tsukubae Tomoe is the samurai of the club. Though she has no experience she is able adapt her skill with the sword to baseball making her one of the best players at the beginning. She is physically the strongest able to hit balls with amazing speed regularly though she has an obsession with home runs.
Tsukubae Shizuka is Tomoe's younger twin sister. She isn't much like her older sister but gets roped into joining as well but eventually finds her place.
Sakurami Kyouko at the beginning is the weakest player on the team and only joins because her beloved Tomoe Onee-sama asked her to. She lacks endurance and can't really catch well at all but through much emotional stress becomes a capable outfielder.
Ishigaki Tamaki is a childhood friend of Yuki and the other member with past experience having played baseball with the boys throughout elementary school. She may be smaller than Tomoe but she can keep up with Tomoe just fine but her specialty is catching and throwing making her valuable for defense.
Kikusaka Kochou is the last member to join. Though she is not as strong at long distance her incredible short distance sprint speed make her a valuable member of the team .
Teacher and supervisor Anna Curtland provides vital support for the girls not only in instructing the girls in the basic fundamentals but also encouraging them throughout the process and serving as an emotional pillar when the girls need it. It was nice to see a Western women helping and cheering on the girls in the face of what seemed to many of them high odds.
I really enjoyed all of the characters and it was exciting to watch as they all matured individually and as a team. Though some of the girls join with prior experience playing or enter with physical talent most of them have none of these qualities. In fact at their very first practice match with anyone against Asaka Secondary's national-level baseball team the girls are completely beaten. Though the team is initially devastated at the loss, through the support of each other they regroup giving it their all during practice. The girls make huge progress throughout the series in hopes that they can reach their goal and show Asaka that they can be just as good. Along the way the girls go through many experiences discovering that they are capable of doing amazing things with the right amount of effort and a belief in themselves and their teammates.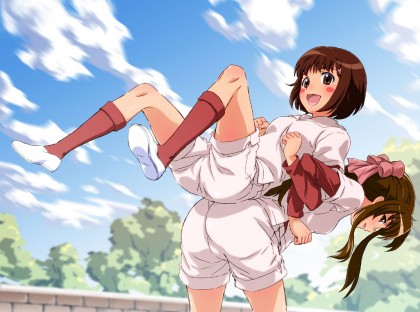 Overall Taishou Yakuu Musume was a wonderful experience. The story touches on various aspects of gender role keeping the anime fresh and enjoyable without ever at all getting heavy-handed, preachy or obtrusive. At it's core Taishou Yakyuu Musume tells the bright story of young girls growing up in a changing era as they take small steps into a world that slowly starts accepting new norms for females. As there is still novel material left to work with I only hope is that it one day gets another season.