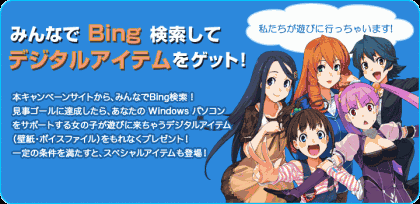 I can't believe I didn't know about this until now but I heard about this at seiyuu3 while trying to catch up on news. Basically Microsoft Japan has started up a campaign website to promote their Bing Search service. As people search on the campaign website a corresponding meter will fill up. If the goal is reached before the deadline Microsoft will release digital items for their 5 new companion mascots in the form of theme files for Windows. Exact details translated below:

Campaign Period
2009 12/18 ~ 2010 1/18 18:00

Campaign Procedure
1. From the Bing search field on the campaign site, search using any keyword.
2. The number of search queries will increase for everyone who searches from the campaign site and the search meter on the site will fill accordingly.
3. If the meter reaches 50% during the campaign period, a digital item(s) will be made available for downloaded on the end date. Furthermore if 100% is achieved a special version will also be available as a present!

About the Present
The present will be in the form of a Windows 7 Theme File containing wallpapers (.jpg) and sound files (.wav).
And here are the profiles for the 5 mascots:
Efficient Secretary Nanae

Promptly taking care of business, even when there's trouble she's a capable secretary that supports without panicking.
Birthday: November 14 Scorpio
Blood Type: A
Favorite Place: Aoyama
Hobbies: Yoga, Internet Shopping
Seiyuu: Nakamura Eriko
Birthday: November 19
Hometown: Kanagawa Prefecture
Hobbies: Reading, Humming, Trying out foods at various restaurants
Previous Works: Amami Haruka (THE iDOLM@STER), Terishia (Paperman), Eruru (Luminous Arc 3: Eyes)
Cute Little Sister Nana

A bright and energetic little sister. She doesn't understand PCs that well but she's a high school student who covers with enthusiasm.
Birthday: February 14 Aquarius
Blood Type: B
Favorite Place: Shibuya
Clubs: Tennis Club
Hobbies: Shopping, Games
Seiyuu: Matayoshi Ai
Birthday: April 2
Hometown: Osaka Metropolitan Area
Hobbies: Games, Internet
Previous Works: Nao (Dream Club), Bundou Seika (Saki), Azuma Rin (Yozakura Quartet)
Childhood Friend Nanako

A childhood friend who's always with you. When it gets serious she's a reliable junior college student of firm character.
Birthday: September 20 Virgo
Blood Type: O
Favorite Place: Kichijoji
Circle: Theater Circle
Hobbies: Reading, Theater-going
Seiyuu: Takita Juri
Birthday: April 18
Hometown: Tokyo Metropolitan Area
Hobbies: Music Appreciation, Cooking, Snowboarding
Previous Works: Noemi (Nodame Cantabile), Satsuki Yuu (Tokimeki Memorial 4), Otonashi Kotori (THE iDOLM@STER)
PC AI Nanami

An AI with constant composure, nothing agitates her though occasionally you can see her gentle side.
Birthday: ?
Blood Type: None
Hobbies: None
Seiyuu: Imai Asami
Birthday: May 16
Hometown: Yamaguchi Prefecture
Hobbies: Taking Pictures, Writing Song Lyrics, Songs
Previous Works: Kisaragi Chihaya (The iDOLM@STER), Solva (NEEDLESS), Kakuka (Shin Koihime†Musou), Bloody Selica (Fight Ippatsu! Juuden-Chan!!)
Manly Close Friend Nanao

A close, boyish friend. She's blunt but at her core she's a kind, manly new member of society.
Birthday: May 17 Taurus
Blood Type: O
Favorite Place: Harajuku
Hobbies: Cycling, Basketball
Seiyuu: Fujita Saki
Birthday: October 19
Hometown: Tokyo Metropolitan Area
Hobbies: Calligraphy
Previous Works: Yayoi Mina (Tokimeki Memorial Only Love), Nanami Ao (Yozakura Quartet), Hatsune Miku (Vocaloid 2)
The seiyuu list is pretty amazing containing hardcore otaku favorites from iM@S, Dream Club and Vocaloid. I'm not sure which mascot I want to use most as Nanae, Nana and Nanako all interest me more or less equally. On the one hand Nanae has the same voice as one of my favorite iDOLM@STERs which is kind of weird since I keep imagining a clumsy secretary despite her description. Then there's Nanako who sounds more reliable and just seems to fit my image of a dependable assistant especially with Kotori's voice. Lastly there's Nana who just plain sounds cute.
This is yet another brilliant marketing campaign by Microsoft's Japan division; Currently the meter is up to 75% so it'll definitely be filled in time. Too bad we don't get cool stuff like that over here in Microsoft's home country. I can't wait for the 18th so I can download all these new theme packs.