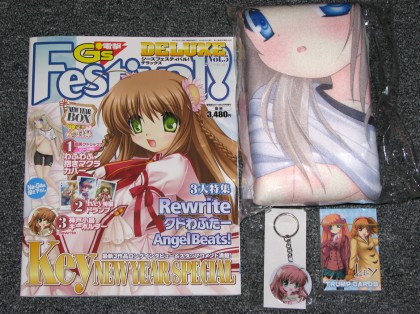 Yesterday I came back to school and waiting for me at the house was a package containing a copy of Dengeki G's Festival! DELUXE Vol.5, the Key special issue, and my Cospa Hirasawa Yui shirt. Since I can only talk so much about a t-shirt I'll focus on the magazine only. The reason I decided to get it other than the obvious fact that I'm a Key maniac was the pack-ins. In hindsight I think I felt a little shafted having missed a similar promotion last time so I didn't want to miss it this time. Aside from the magazine the box set also comes with a Kud Dakimakura Cover, Key Playing Cards and a Kanbe Kotori Key chain. I'll definitely use the key chain and cards but I honestly don't know what to do with the dakimakura cover so I'll probably just keep it in the plastic and store it somewhere.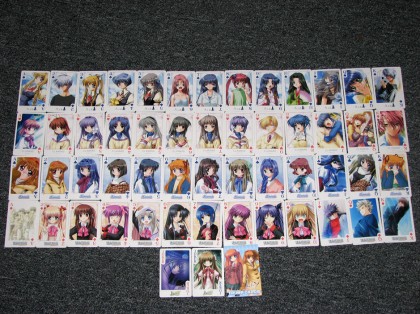 The playing card suites are as follows: AIR as Spades, CLANNAD as Hearts, Kanon as Clubs, Little Busters as Diamonds and Rewrite as the Jokers. All the images are from the CGs from the game version and most of the major characters are represented except the characters from Rewrite since you only get 2 jokers per deck. I find it amusing all the diamond face cards are guys.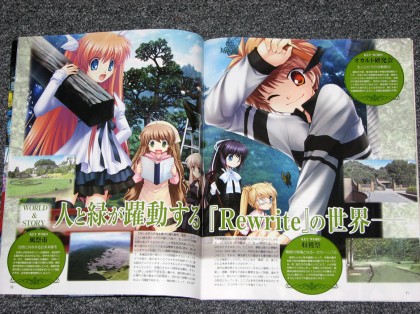 As for the contents of the magazine itself the 3 main features are Key's newest projects Rewrite, Kud Wafter and Angel Beats. I haven't actually read the articles in depth and just skimmed bits and pieces plus the pictures. Of the three I'm most interested in Rewrite and still want to help translate it if the opportunity presents itself. As I thought Rewrite will feature plenty of agriculture action. I already knew about the afforestation situation from having translated the story synopsis and character profiles but I didn't realize how overgrown the town would be; It's kind of hard to tell where the forest and town begin and end. Of course the obligatory measurements for the girls are also revealed. I find it funny that I'm shorter than Lucia (167cm).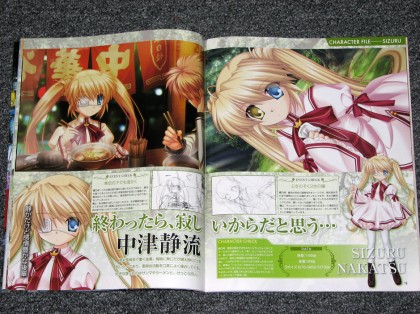 The character I'm still looking forward to most is Nakatsu Sizuru. I blame the eyepatch. Even without it she looks adorable with her yellow-blue heterochromia. For some reason I suddenly have the urge to draw her wearing a Solid Eye. METAL GEARRRR!? Also she's tiny at only 149cm tall, 39kg and B76/W52/H73cm.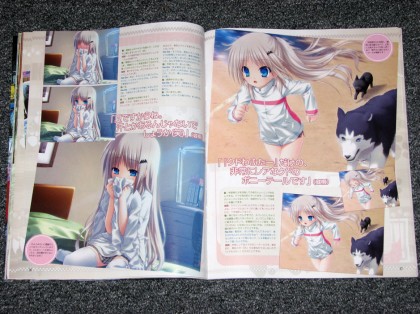 Next is Kud Wafter AKA the Tomoyo After for Kud fans. I'm probably not as excited about this as others but I'm still looking forward to it. With Kud's promotion to main heroine I'm obligated to add her to my Key main heroine picture along with changing a bunch of other things. Also Kud sniffing Riki's shirt is cute.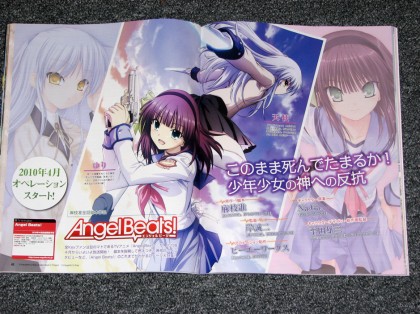 Lastly is Angel Beats. So far this is still my top priority for the spring anime season. Stylistically it seems most similar to Little Busters so I'll just treat it as such for now.
There's also the Angel Beats 4koma that started this issue which I'll scan and translate later. If there' s other interesting stuff I might translate that as well. 2010 is going to be a Key-packed year.