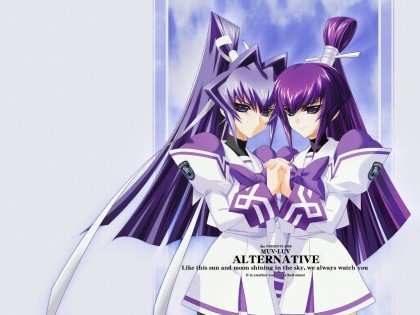 Honya's been on a translation tear lately, but when she mentioned that her next project was going to be Kuribayashi Minami's tune Muv-Luv (because no one else has translated it yet, apparently), I begged her to let me do it instead. "Muv-Luv" is one of my favorite songs, and Muv-Luv Unlimited/Alternative  would be on my short list of visnovels to play except that it'll never be translated. Ah, well. Here's hoping you enjoy my latest humble translation effort!

Romaji
Kokoro ga yure ugoku tabi
Machi mo hito mo kotoba mo
Chigau iro ni naru
Aenai dake de setsunai
Mayoi no toki no naka de
Itsumo yondeita
Kizuiteru? Yoru no namida
Tame iki to kodoku
Nee tsuredashite sugu ni
Anata no hitomi ga utsushidasu mirai
Futari no deai ni imi ga aru no nara
Ima onaji yume wo
Mitsumetai no kagi wo ageru
Kokoro no tobira akete
Ushinau koto ga kowakute
Kimochi kakushi tsuzukete
Hitori nayandeta
Samenai yume wo samayoi
Itsumo kokoro yureteta
Natsukashii itami
Tsuyoku naru chikazukitai
Taisetsu na hito ni
Sou umare kawaru kara
Futari no omoi ga tsukuridasu sekai
Hontou no kimochi wo mitsumeru yuuki wo
Ima dakishimetai
Yasashiku naru kanjiaeru
Tsubasa wo ima hirogete
Anata no yuuki ga kirihiraku mirai
Futari no omoi ga mitsukedasu kibou
Ima shinjiaeru
Akiramenai kokoro kasane
Eien wo dakishimete
English Translation
At times when my heart shakes and stirs
Towns, people, and words
Turn a different shade
Just not being able to meet you is painful
In the midst of doubt
I was always calling to you
Are you noticing? The tears at night
Sighs and loneliness
Hey, take me out right now!
If the future reflected in your eyes
Is one where our meeting has meaning
Then I want to see
The same dream as you now. I'll give you the key
Open the door to your heart!
To lose someone is frightening, so
I kept hiding my feelings
Worrying all alone
Restless dreams lingered,
Always stirring my heart
A nostalgic pain
I'll become stronger! I want to be closer
To that precious person
Yeah, I'll be reborn!
In this world created by our emotions,
Now, I want to embrace
The courage to face my true feelings
Become kinder, be able to sense it
Now unfold your wings!
A world opened up by your courage
Hope discovered by our feelings
Now, I'll come to believe
I won't give up, I'll steady my heart
Embrace eternity!
Kanji
心がゆれ動くたび
街も人も言葉も
違う色になる
会えないだけで切ない
迷いの時の中で
いつも呼んでいた
気づいてる? 夜の涙
ため息と孤独
ねえ 連れ出してすぐに
あなたの瞳が映し出す未来
ふたりの出会いに意味があるのなら
今 同じ夢を
見つめたいの 鍵をあげる
心の扉開けて
失うことが怖くて
気持ち隠し続けて
ひとり悩んでた
醒めない夢をさまよい
いつも心ゆれてた
懐かしい痛み
強くなる 近づきたい
大切な人に
そう 生まれ変わるから
ふたりの想いがつくりだす世界
本当の気持ちを見つめる勇気を
今 抱きしめたい
優しくなる 感じあえる
翼を今広げて
あなたの勇気が切り開く未来
ふたりの想いが見つけだす希望
今 信じあえる
あきらめない 心かさね
永遠を抱きしめて