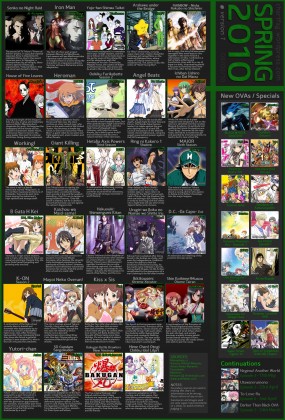 Looking ahead to the next season it seems I won't be watching too many new series just like the winter season. However the few shows that I will be picking up will be more than enough to keep me entertained. Let's have a look at what I'll be watching:

Definitely Watching
K-ON! 2 – As the self-proclaimed world's biggest K-ON fan this is definitely number one on my anime radar. After finding out that Sora no Woto wasn't exactly my K-ON substitute (though I still like it) I'm even more anxious. I can't wait to see even more Yui goodness since she always makes me smile and laugh. Time to prepare for another round of translating insert songs at the detriment of my sleep.
Angel Beats! – As a Key fan I'm also really looking forward to this. Judging by the already released material it seems to be more in line with Little Busters than any of Key's other previous works. Assuming we don't get a Little Busters anime this will be the next best thing. I wonder if this will also get a VN adaptation though or will it stay strictly anime? I mean there are a lot of characters and probably not much time to develop them so there is always the possibility.
Working!! – Other than the fact that the show is about people working at a family restaurant called Wagnaria I don't know many concrete details. After watching all the PVs it looks like the staff of the restaurant is super dysfunctional which is sure to be great for laughs and some slice-of-life action. For example Mahiru is not exactly confident about herself in comparison to the other girls plus she's afraid of men and punches them which will be entertaining. The style reminds me of something though I can't name it outright. The closest I can think of is the hilarious AyuMayu antics from KimiNozo which I'll gladly accept.
Maybe Watching
Mayoi Neko Overrun! – A lolwut show I might be interested in due to the promo images of catgirls in box. Actually scratch that. I bothered to watch the PV for the show and it actually seems to be about girls working at a bakery which actually means I might be interested in it after the novelty wears off. Depending on how things go this has the potential for generic harem or nice slice-of-life action written all over it but I want to give it a shoot. At the very least the animation looks nice.
Kaichou ha Maid-sama! – Honestly I haven't read the manga but when I heard about the premise I found it amusing. I think having the female student council president who despises the mostly male population of her school trying to keep the fact that she works at a maid café secret kind of cute and prime for comedy. According to Aorii it might become Special A AKA no character development and not actually entertaining in which case I'll go into a fit of rage.
B Gata H Kei – I was interested in this since the main girl is supposedly trying to find 100 casual sex partners. I found this kind of weird so I wanted to check it out. Somehow I missed the fact that eventually she's supposed to go after only one guy which kind of put a damper on the lolwut factor that made me excited about it in the first place. Hopefully it can keep me entertained after the sluttiness goes away.
OVA
Continuing OVA
Negima Mou Hitostsu no Sekai – I like Negima and I want to see more magical battles.
To-LOVE-Ru – I don't think it's that great as a whole but the To-LOVE-Ru OVA episodes have usually been better than the TV series.
In summary I'll be watching at most 6 new TV series and 7 unwatched OVAs. Most likely I'll be able to use my extra time to do even more catch up on my anime backlog which has been going surprisingly well compared to previous attempts. Since it looks like most of what I'll be watching will be comedy I probably should think about watching some serious shows concurrently to balance things out. At any rate I'm bracing for Fuwa Fuwa Time v2!