With only a little more than a month before PSP game Metal Gear Solid: Peace Walker makes its North American debut I've been gobbling up every bit of related material I can find online. Somehow I stumbled on to this strange fanmade video of Big Boss doing sketchy things to one of the game's main characters Paz. Did I mention she's still in her teens and in only in underwear making it all the more creepy/hilarious/mind-blowing depending on your take? If you have 3 minutes to spare and can brace yourself for some "what!?" then you should watch this video. The first 45 seconds or so are of Big Boss taking photos of Paz and chasing her down with his camera while she tells him not to. Then Big Boss trades in his camera for a stun rod and continues running after her while the Psycho shower scene music plays for another 45 seconds. Using some CQC Big Boss grabs hold of Paz and interrogates her. She says stuff like "I'm…Paz…I love…peace…" and "It hurts…Let go of me…" At the very end he slams her down on the ground after which a cutscene starts. Paz walks away while Big Boss yells for her to come back and the game over music plays. At the end I pretty much had nothing else to say because my brain was fried.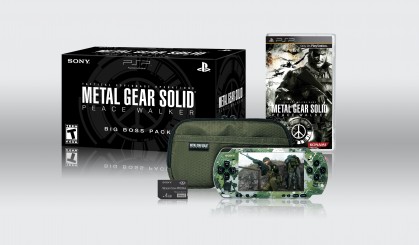 I'm looking forward to this game so much. I'm set on getting this launch day and since I don't have a PSP yet I'll be getting the Big Boss Pack which will include the following:
"Camouflage" PSP-3000 system
METAL GEAR SOLID: PEACE WALKER game on UMD
Voucher for in-game content unlockable early on in the game
PlayStation Network downloadable movie voucher — title to be announced
4GB Memory Stick PRO Duo
Premium carrying case
It's going to be so cool except the part where I'll lose the PSP due to the camo paint job. I can't wait until June 8 when I can be advertised Doritos, Moutain Dew, Pepsi, Axe body spray, etc.