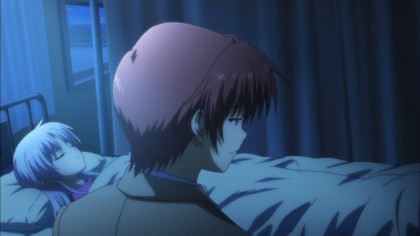 It's time once again to make an exception to my no episodic posts policy thanks to the latest episode of Angel Beats! As always be prepared for plenty of spoilers. I would suggest watching the episode first so as not to lose any of the emotional impact. First a summary followed by some thoughts.

The episode starts off shortly after the last. Kanade is fast asleep in the infirmary with Otonashi. The rest of the SSS is essentially doing damage control in the event that Kanade wakes up with the aggressive personality of the clones. Otonashi falls asleep while looking after Kanande and has a dream about his final days alive.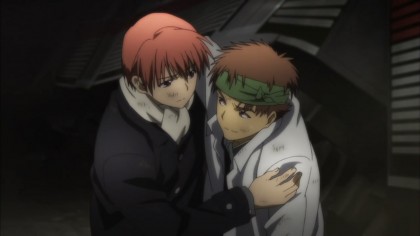 Otonashi did not die during the train accident that was depicted in episode 7 and was in fact one of the few left alive. He helps the other survivors by getting them out of the wreckage and supplying first aid to those in need. Once everyone is saved he goes off alone to find an exit but only finds the other end of the tunnel caved in. He can't believe it and starts to have pain in his abdomen. He lifts up his shirt to find out that trauma has caused internal bleeding. Without medical attention he will die.
He heads back to tell the news and takes up the leadership position. He gathers the available food and water and rations it among the survivors. One of them decides to steal the water and in the process wastes a whole bottle. Instead of punishing him Otonashi decides to forgo his own share knowing that he will most likely die first.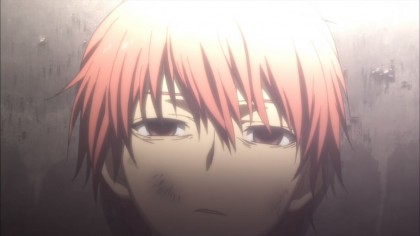 After 7 days without rescue everyone is laying on the floor weak without supplies. Otonashi starts reflecting on how even though he learned the meaning of his life from his sister he is unable to do anything for those trapped with him. He starts thinking and remembers that she never recovered because she never had a donor. Otonashi asks the first person he saved for a pen. Otonashi takes out a card and starts filling it out. "Circle the organs you wish to donate below." Otonashi circles them all and signs. Even if he can't do anything now maybe someone else will be saved with his body. Seeing Otonashi's actions the remaining survivors follow suit. With this last act Otonashi passes away just as the rescue party arrives.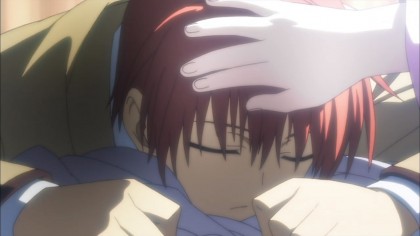 Waking up with Kanade stroking his head Otonashi tells her he remembers it all. Even though he has made peace with his greatest regret he has yet to disappear meaning he still has a few remaining. Discussing this with Kanade he realizes that he wants to help all his friends find peace and be born anew so with Kanade as an ally they will now work together to bring resolution to the souls of the SSS.
Thoughts
This episode was quite amazing and possibly even my favorite. We already knew that Otonashi learned about living for others and thus decided on becoming a doctor. However as noble as that is we did not get to see him shine as such until now. When put in that life-or-death situation he was pushed into acting the role of a doctor even if only for a brief period. Knowing that he would most likely not make it he put others before himself and kept everyone alive for as long as he could. Even at the very end he realized that he could still do one last thing to help people after his death. Otonashi's touching act of self-sacrifice had me in tears for the rest of the episode once he started filling out his card. With his precious last moments he decided to help strangers he would never meet.
This episode provided me with one of the most powerful Key-related crying sessions since I watched Kanon for two reasons; I didn't know it was going to happen and more importantly I felt a strong connection to the material. As someone who is connected to the medical field I was touched at a personal level. Living to help others is something I take to heart so when I saw him do what he did I could see a little of me in him.
In a world in which people can't actually die he carries over his life's mission by helping others in the only way he can. By bringing closure to the regrets his friends carry he can continue what he aimed to do while alive. The realization allows him to forge an alliance with Kanade and so both of their missions become one.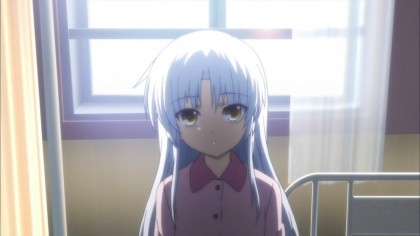 It will be interesting to see the pair bring peace to the members of the SSS in the final few episodes. It still begs the question what will happen to Otonashi and Kanade after they have completed their objectives? Will Otonashi disappear right away or will he remain here indefinitely like Kanade has been for who knows how long? At the very end I want all of them Otonashi and Kanade included to be reborn together in a world in which they can meet and become friends once more.