Everyone knew it was coming eventually but Namco Bandai finally officially announced THE iDOLM@STER 2 recently. It doesn't come as a surprise given the 2nd Vision initiative to revitalize the franchise but now we have solid information about the title. I did some slight speculation about the game (but mostly praying for features I want) a few months ago and I'm glad some of my wishes have come true.

Here's what's been confirmed:
Spring 2011 Release for Xbox 360
765 idols with integration of the 961 idols from SP
Set half a year after the original. All the girls have debuted but have hit a popularity wall.
The theme is "Unity." The game will be played with a trio of idols and the producer must take care of them individually and as a group.
Gameplay will involve touring Japan
Same visual style but updated character designs
New stages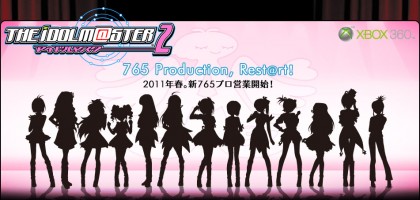 There are also some details from the promo that are still unclear. Apparently Ritsuko and Azusa as well as possibly Iori have retired making room for Takane and Hibiki. At the very least Azusa, Ritsuko, Ami and Iori have not been shown dancing or singing leaving some to speculate that they have taken the sidelines. The logo has been redesigned with 13 stars on the rings apparently to represent the 13 idols. This is somewhat confirmed by the 13 silhouettes of the idols pictured above taken from the official site which corresponds to from left to right: Makoto, Takane, Hibiki, Yayoi, Chihaya, Miki, Haruka, Yukiho, Mami, Ami, Iori, Azusa and Ritsuko. As you might have noticed none of the 876 idols are represented in the silhouettes nor are featured in the promo so whether or not they show up is still open to question. I don't care what anyone says but I like the 876 idols and want to see them in HD glory.
Now that the serious things are covered time for fangasms. So many of the idols have gone through visual updates that it was shocking at first but I'm in love with them. Ami and Mami have hit puberty and have gotten taller and less loli-like. OH GOD MAMI'S AS TALL AS HARUKA!! Now Yayoi and Iori are the only lolis. Yayoi hasn't changed lol but Iori has gotten a new hairstyle. Apparently she looks like Aisaka Taiga (not my opinion). Speaking of hairstyles Ritsuko now looks more sexy and Azusa's MILF readings have gone off the scale. The biggest change of all was Makoto. When I first saw her redesign I don't kid when I say I had no clue who that was but oh god does she look pretty. People have also been saying that Chihaya and Yukiho have bigger chests but I can't tell from memory. Speaking of breasts, more noticeable boob bounce! OH GOD I WENT HNNNNNNGGG AFTER TYPING EACH OF THESE SENTENCES.
Also the new song "The world is all one !!" is wonderful. I'll have it translated today, promise. I WANT THIS GAME SO BAD!! I haven't been this excited about anything in a while. Maybe I should start using my Project iM@S account again.