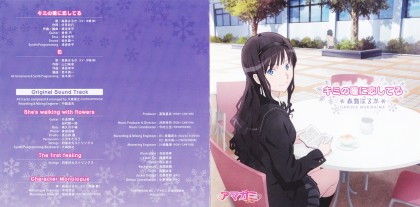 The first Amagami SS ending song is credited to heroine Morishima Haruka who's played by Itou Shizuka. I don't find the song particularly amazing or anything but I like Morishima as a character since she's so weird. With that said I'll be doing the rest of the series's songs as well so look forward to them whenever a new one is released. For now just be content with Morishima-senpai.

Romaji
Kawaii sore dake de muchuu de nadetaku naru urunda hitomi
Jarete iru toki wa natsuite iru dake da to omotteta n da
Koi no hajimari nante Yohou hazure no tenki mitai
Ameagari no niji no sora ni te nobasou
Kimi no tonari wa sunao na kimochi ni nareru kara
Kidzuita kimi no koto omou jikan wa
Mune no oku ga konna ni takanaru koto
Kinou yume no naka ni Mata kimi ga dete kita
Machiawaseta basho awateta kimi no kao ni okorenakute
Itsumo karakatte ita no ni sono hitomi ga kirameiteru
Kimi ga warau to hora Donna sora de mo harewataru yo
Ameagari no niji no sora ni egakou
Kokoro no naka ni umareta fushigi na kono kimochi
Itsumo atarimae no koto ga konna ni
Kimi ga iru sore dake de kagayakidasu
Kyou mo kimi no koto wo omoiukabete iru
Konna kimochi hajimete na no
Sukoshi dake fuan ni mo naru kedo
Takanaru kono omoi tokimeki ga tomaranai
Ameagari no niji no sora ni sakebou
Kimi no namae yobu dake de omoi ga afuredasu
Moshikashitara kono kimochi ga koi na no?
Datte kimi no koto itsumo kangaechau
Koi no tsubomi ga ima hikari kagayakidasu
English Translation
You're just so cute that in a daze, my eyes were clouded by feelings of wanting to touch you.
When I was flirting, I thought I was just getting a little attached.
At the beginning, love is erratic like the weather.
After the rain let's stretch out our hands toward the rainbow-filled sky.
When I'm next to you I understand my true feelings.
I've noticed that whenever I think of you,
My heart races deep in my chest.
Yesterday you appeared in my dreams again.
I can't be mad at you when you get the rendezvous point wrong.
I always teased you and yet your eyes keep shining.
When you laugh, look! No matter what the sky breaks into sunshine.
After the rain let's paint in the rainbow-filled sky.
This mysterious feeling is born from within my heart.
It's always so obvious
That it begins to shine just by you being here.
Even today I'm daydreaming about you.
This is the first time I've had these feelings.
I'm becoming just a bit anxious but,
This racing feeling just won't stop.
After the rain let's shout at the rainbow-filled sky.
Only by calling out your name do my feelings start to pour out.
Perhaps this feeling is love?
Even though I'm always thinking of you…
Our budding love now starts shining with light.
Kanji
かわいいそれだけで夢中で撫でたくなる潤んだ瞳
じゃれている時はなついているだけだと思ってたんだ
恋の始まりなんて 予報外れの天気みたい
雨上がりの虹の空に手伸ばそう
君の隣は素直な気持ちになれるから
気付いた君の事想う時間は
胸の奥がこんなに高鳴る事
昨日夢の中に また君が出てきた
待ち合わせた場所慌てた君の顔に怒れなくて
いつもからかっていたのにその瞳がキラめいてる
君が笑うとほら どんな空でも晴れわたるよ
雨上がりの虹の空に描こう
心の中に生まれた不思議なこの気持ち
いつも当たり前の事がこんなに
君が居るそれだけで輝きだす
今日も君の事を想い浮かべている
こんな気持ち初めてなの
少しだけ不安にもなるけど
高鳴るこの想いときめきが止まらない
雨上がりの虹の空に叫ぼう
君の名前呼ぶだけで想いが溢れ出す
もしかしたらこの気持ちが恋なの?
だって君の事いつも考えちゃう
恋のつぼみが今光輝きだす