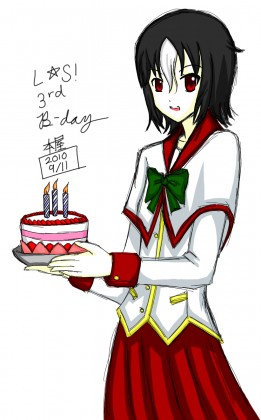 Today marks exactly 3 years since I started blogging. When I first created Lyrical Spark I had no idea that I would continue for so long or with so much enthusiasm. What was originally a tiny school project has blossomed into my precious treasure.
Anyway I wanted to take this time to briefly talk about my plans for this blog's future. In the past year or so Lyrical Spark has sort of shifted its focus to lyrics. From its inception I had always planned to do lyrics so of course I'll continue to translate songs that I love (it helps that they are my most popular posts after all). However I also want to work on older songs that have been neglected to be translated in addition to the current stuff. Part of this initiative will be what I am dubbing Project K-ALL! which basically is me translating all the K-ON songs eventually. I've finished the ones that have appeared in the show aside from NO, Thank You! so hopefully the B sides and character songs will start appearing soon.
I also want to start posting more art again and I don't just mean Yuri on the Chalkboard either. Posting my drawings was one the things that motivated me early on so I want to start that up again as a regular feature. Maybe on a bimonthly basis perhaps? I guess I technically started today with my anniversary drawing featuring the main heroine from my original story. I hope they start appearing more often now.
I'll do my occasional anime-related posts as well like usual. Seasonal watch lists will be done like normal but if time permits I'll try to do more impressions posts like I did in the early days and over the past summer.
I believe that's everything that I wanted to cover. I still have at least 2.5 years left in this little place on the internet so expect to see me into the near future. Cheers to another fun year with L☆S!