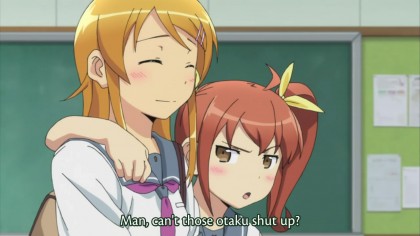 The Fall 2010 anime season has been off to a great start so far and I do enjoy a lot of what I have decided to pick up. Of those shows Ore no Imouto ga Konna ni Kawaii Wake ga Nai is one the series that I can most easily relate to. In particular episode 2 struck a chord with me and awoke some memories of my life as an otaku that I usually avoid talking about. I would say that I share the same anxieties that Kirino has about making otaku friends though the circumstances aren't exactly the same.

First I'll give a little background on how I got into this whole otaku business as context before going into the OreImo-related stuff. I may not have been born in Japan but I very well could have. From as far back as I can remember up until just before my sixth birthday I lived in Japan. I grew up around Japanese culture and I remember going to shopping arcades, trips to Tokyo via shinkansen, watching anime on TV, etc. I didn't always know what was going on but I loved it. When I moved to the States my general interest in Japanese culture in particular anime and games only grew as a sort of nostalgia.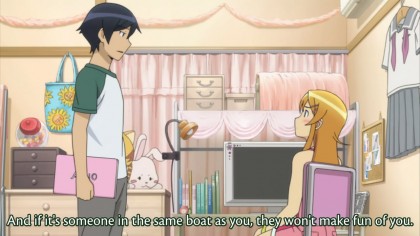 Anyway back to OreImo. During the beginning of the episode Kirino overhears a group of otaku talking about some game. Kirino is genuinely interested but she can't really bring herself to go talk. Her friend puts it bluntly by saying that stupid otaku should just shut up. Kirino consults her brother about the situation. She has no friends with the same hobby as her. Even though she wants someone to discuss her hobbies with she doesn't want to make otaku friends. She doesn't want to be associated with such people due to the various societal consequences. The world looks down on otaku so she can't let people know.
The above is essentially the story of my life though the societal problems for me stem from personal experience rather than a fear of an overall cultural disgust. I understand how it is for Kirino to not have any otaku friends. Every time I expressed my enthusiasm for anime publicly I was always made fun of behind my back. I remember an assignment in elementary school in which I had to create a world and share it with class. I poured my heart into an amazing drawing with an unquestionably heavy anime influence. When I got excited sharing it and talking about it I got laughed at and called names. I also remember designing a Gundam in middle school and the same thing happened. Cases like this are why even now I feel uncomfortable sharing my art with people unless I feel like I won't be looked down upon. Eventually I kind of gave up on sharing my hobbies with people.
Throughout elementary school to high school I really didn't have anyone with whom I could truly express myself. That's not to say that I didn't have friends at all but I really was never that close with them; I don't remember revealing and discussing any of my deepest secrets or worries like I do so often now on a weekly basis with my current friends. I had some friends thanks to being in the same academic programs and through my art club but aside from these we had little in common. I already knew that the people I could become friends with didn't have an interest in anime partially due to what I described above and for other reasons. Sometimes we did things like play video games together or something but never anything that I really liked and was instead dragged into things they liked. More often than not I would choose to stay at home and isolate myself in a world of otaku entertainment rather than interact with most people that I knew. Because of this very loose connection I lost contact with them very quickly after entering University with that academic connection severed. In all honesty I haven't communicated with most of my high school friends in years except one of my closer classmates a few months ago but only so that he could deliver some depressing news which I'm not going to describe.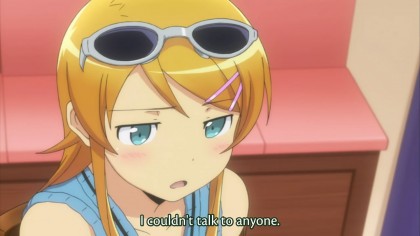 There were a few times during high school in which I could have made otaku friends but like Kirino I couldn't bring myself to do so. It's not that because of some self-hate issues but rather I hated the idea of giving people an excuse to mock me or being scared that I would still be laughed at after revealing my specific tastes. I remember seeing a group of goth kids who always talked to each other before class started every morning. Sometimes they would have cat ears or other times they would talk about Inuyasha or something along those lines. "It's true that these aren't exactly my interests but surely it must be better than my current situation, right?" I had thoughts such as this and yet I was always too intimidated to approach.
Another time I was enrolled in a technical drawing class. Sitting behind me were a boy and girl who would always talk about various anime as they worked. On one occasion the boy was talking about how KimiNozo was his favorite anime ever. I really wanted to turn around and say that mine was Kanon but I couldn't do so. I didn't want to be grouped together with these two and stared at by everyone else.
Anytime I went to the bookstore to look at manga or something I always ran away at the sight of someone else approaching the bookshelves. I was scared of being seen with other otaku. Looking back at it now I honestly regret not having the courage to make new friends and get over my societal anxiety during these or similar situations.
Anyway back to OreImo. Kyousuke suggests that Kirino should try meeting people online first. This culminates in an IRL meetup with fellow otaku. Kirino is a little nervous as she's getting into a world she really doesn't know. At the scheduled tea party she has a hard time interacting with the others and ends up having a terrible time. Afterward Saori invites her to an extended tea party to get to talk to her and Ruri, the other girl who didn't really have an active time at the event. Ruri and Kirino start to talk more and eventually they find out that they have opposing tastes. Ruri is a fan of a show that airs at the same time as Kirino's favorite anime and they have a big fight. Kirino defends moe magical girls while Ruri defends her serious business show. Even though they don't see eye-to-eye the fact that they can be so open about their interests is a triumph which brings them closer. After returning home it's revealed that Kirino and Ruri have started sending each other messages online.
The analog to this for me would have to be my anime club. At this point I was starting to get tired of not having any friends to talk to about my main hobbies so the first thing I did when I got accepted into my current university was to look to see if there was an anime club. Just like Kirino I was anxious about my first meetup that I didn't know what to do; I had no experience talking to other otaku online much less offline. In fact I was so frightened by the whole affair that I was late 30 minutes–It took me that long just to talk myself into going. With some very important exceptions that I'll mention later I had a hard time talking to most people. Maybe it's because I was shy or something. I don't really know. What I do know is that looking back I'm glad I summoned up the courage to go or otherwise I may still be in my own world watching anime by myself and isolating myself from others.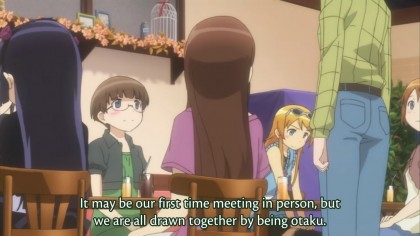 Anyway I kind of doubt that I would have stayed in the club had it not been for the two people I now consider my best friends. Aorii and Miki_sei are the two I had the most in common with. In fact I would say I'm somewhere in between the two. Both me and Aorii had the same tastes in the more niche aspects of otaku culture such as visual novels that the rest of the club didn't seem to be familiar with. During my introduction to the club I said that Kanon was my favorite anime which I don't think anyone else knew. Of course at some point Aorii approached me and started talking and the rest is history. In Miki_sei's case we kept on seeing each other all over the place. We actually met in Japanese class although I don't think we talked to each other at all, and then later at the anime club and then a Japanese cultural event. After some time we decided to start hanging out and communicating online through the club forums or IM. In fact this is the reason people refer to me offline as Honya since he asked me if he could just call me by my online handle.
Ever since joining my club I've become a little more open about my otaku interests. I still have a terribly hard time talking with people outside of my interest base unless I keep things strictly business. I literally have no friends outside of my club. I have acquaintances but nothing more. In a way I'm keeping parts of life separate from one another in the same way as Kirino. This is one of the reasons I'm trying to find a job in the area around school. I'm incredibly terrified of the idea of being separated from my friends especially as I'm also notoriously bad with keeping up with people through online means. I'm so heavily invested in otaku culture that one of my greatest fears is never finding a life partner who shares a similar interest. Otherwise that's too much time to spend alone. I don't want to find myself in a situation in which I don't have anyone in real life that I can be open with and share my interests. I apologize if this has been a little long but this has become somewhat of a catharsis of otaku experiences and fears.