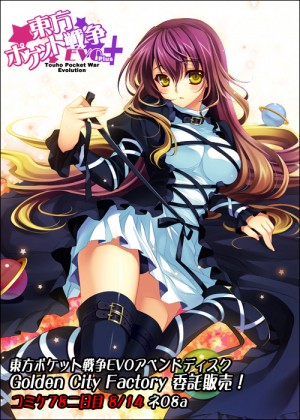 Ever since New Year's Eve I've been playing the doujin games Touhou Pocket Wars Evolution and its expansion Evolution Plus. I found out about them pretty randomly when I stumbled upon some recent updates on the Touhou Wiki. I thought the art looked nice and before I knew it I was spending way too much time playing the game that I sort of neglected everything else.

Touhou Pocket Wars Evolution was released a little less than a year ago at Fancy Frontier 15 by Mikan Douwa as a sequel to their original Touhou Pocket Wars from 2009. Thankfully prior knowledge of the first game is unnecessary so one can enjoy the game fully without having played the first game in the series. EVOPlus on the other hand is an expansion that includes several additions including a direct sequel to the events in Evolution which I will get to later. The games feature nice remixes of Touhou classics by Golden City Factory. The character artwork by these two artists is also quite fantastic and kind of overshadow the other graphics. Anyway before I go on I would like to mention that it's best to play after installing the expansion as you can use a couple of extra characters early on.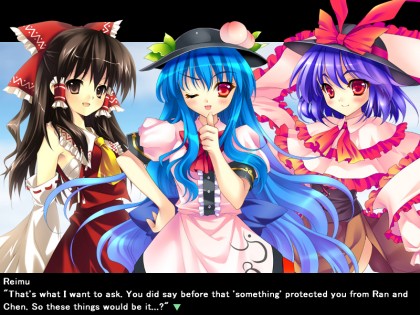 The game is played from the perspective a typical touhou-obsessed fan who has been saving up money for a new combination trading figure and card battle game. The game starts off somewhat normally and monotonous with the player buying gacha, little trading figures, and the accompanying spellcards to participate in battles. This part of the game familiarizes the player with the battle mechanics. After fighting and progressing ranks sufficiently the real story starts a few days in. On the way back home the player characters runs into the strangest thing. He (I'm assuming it's a guy) runs into the most fantastic Touhou cosplayers he has ever seen. They look exactly like Ran and Chen! He then notices a gap right next to them and realizes that maybe they are the real thing. When they notice they attack him but as he flees his gacha materialize into familiars to protect him. After a battle the player finds himself in Gensoukyou. All the events and characters as described in the official games and related materials in fact exist! The rest of the of the story has the player meeting the various locals trying to figure out what's going on. I won't go into the specifics to avoid spoilers but there is absolutely one thing I have to say. It plays out exactly like a self-insertion fantasy in which your dreams of going to Gensoukyou came true. I'm not knocking on it for that. In fact I find it amusing since I've certainly thought about it and how lovely it be to be friends with or actually be Alice (In during forever alone). At the very least the creators of the game certainly know their audience.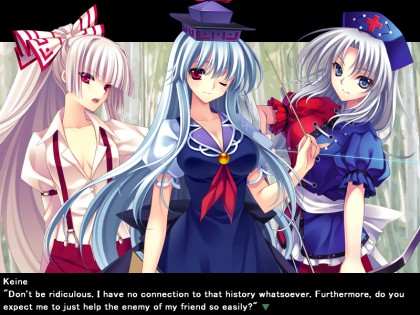 Besides the main story, the multitude of characters are explored a bit through side missions in the form of dream sequences. That's right! You get to dream about your Touhous! When the player ends the day by going to sleep he can participate in dream sequences with one of the first three gacha in the character case. Each sequence has a certain level requirement while a few require an additional character or two. A few others are also unlocked by doing other dreams. These are really amusing and enjoyable as far as character interaction is concerned. One of the ones I liked a lot involves Eirin asking Keine to help Kaguya. Keine of course refuses to help the enemy of her friend. Other times it can be a pain especially when you have to use support characters with low attack stats in which case it often becomes a war of attrition that gets tiresome fast. After completing them you get assist points for improving assists skills which will be talked about later.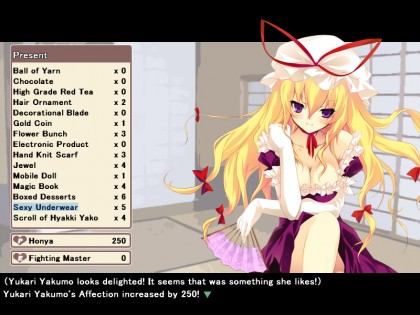 You can also interact to a minimal extent in "meetings." One of the things you can do with each character is to participate in a king's game which simply put is essentially strip danmaku. After 3 consecutive victories you can dress the corresponding gacha in various stages of undress down to underwear. Each character also gets at least one additional costume some of which can only be used after a certain level of affection is achieved. Affection is gained by giving presents to the characters and it's a little interesting discovering which presents each character likes the most. Protip: The "Old Maids" love sexy underwear.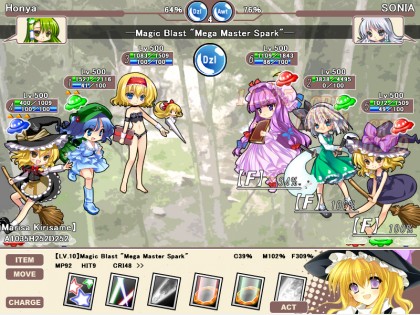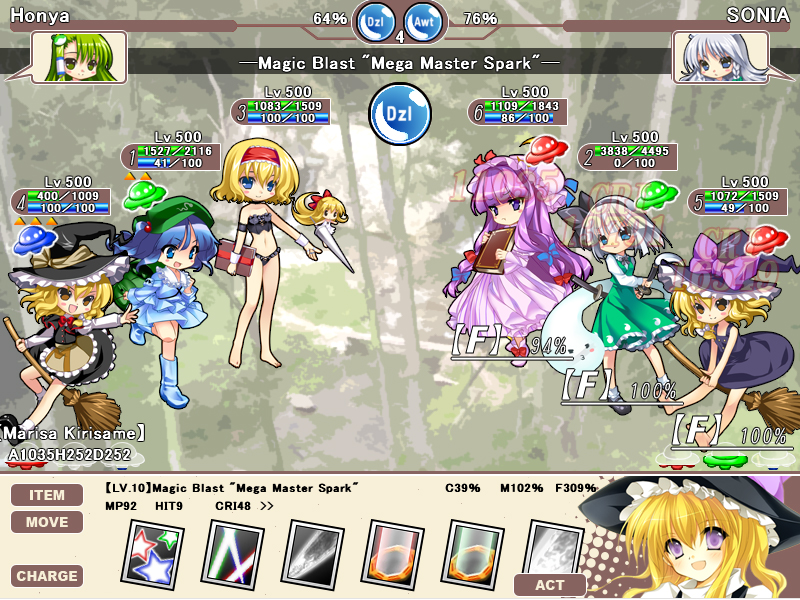 Anyway as far the actual battle mechanics are concerned, Touhou Pocket Wars Evolution plays out as a single player turn-based RPG utilizing a 3 by 3 grid for each opposing side. Each competitor can place up to three gacha on the field at a time with a fourth member in reserve. The players take turns using various spellcards attached to the Touhous until the opponent loses. Each row and column can only be occupied by one character at a time and the used spaces cannot be changed once the match starts although characters can swap places on the field or reserve area. The reserve character also have assist skills which grant various bonuses such as increases to accuracy or decreases in damage taken. Once a gacha on the field has been knocked out they can not be replaced with the reserve so it's important to know when to switch out or not to protect characters or to change assists. The game also borrows the environmental effect idea from Scarlet Weather Rhapsody which too can change the tide of a battle. The mechanics are fairly straightforward and only take a little time to learn. The main bulk of preparing for battle is setting up your Touhous beforehand.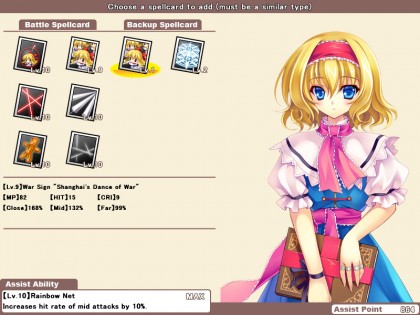 The game has several different spellcards per character and each has it's own attributes. The attack cards do damage based on a trio of multiplier ratings called C, M and F corresponding to close-range, mid-range and far-range respectively. The position of the attacking gacha to that of the opponent's determines the range and thus the amount of damage that will be dealt so correct placement at the beginning of the match can have a significant effect on battle readiness. For example it would be best to have Suika upfront close to the enemies since most of her spellcards do C and M based damage. Spellcards can be bought from the store in random packs. Thankfully you can buy them according to the character. Each character can have up to twelve cards, six of which can be equipped for battle. Multiples of cards can be combined to level them up to a maximum of level ten which can increase their attack power, improve their effects and occasionally reduce or increase SP usage depending on the card. Once a card has been maxed out by level, it has a random catch of getting better when used. A light bulb will occasionally appear signifying that its stats have increased and this will continue until it reaches it's limit. As such it's a good idea to level up your most useful cards early on. It's interesting to note that multiple copies of the same character borrow from the same pool of cards so you never have to buy extra cards. Unfortunately it also means you can't customize between two Reimus for example.
As for the Touhous themselves, gacha can be bought from several vending machines each with different themes though initially the player can only buy from the "Heroine Series" machine. Including the EVOPlus expansion there are a total of over 40 Touhous in the game. Most of these will unlock after a set period of in-game days although 2 characters need to be unlocked through special circumstances while the UFO machines will unlock after EVOPlus's main story has been completed. As advice for anyone who wants to play, it is a good idea to have at least 9 characters to form 3 decent or good teams as there are times in the game in which you have to fight multiple battles in a row without using the same gachas.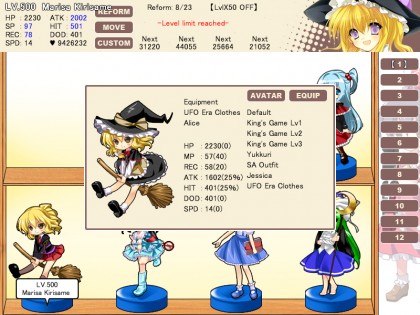 After most battles participating Touhous are awarded love, the game's equivalent of experience. Love points are then spent on raising the Touhous' HP, attack, hit and dodge stats which the player can assign according to personal preferance. There are some other stats as well but they cannot be increased except indirectly through items or permanently through a process called reform which I'll discuss in the next paragraph. Each time a stat is raised the Touhou's level goes up by one until a maximum of level 500. After level 500, the gacha will continue to accumulate love up to a maximum of 9,999,999 points. Fortunately this is not a waste of time as this experience can be used after reforming.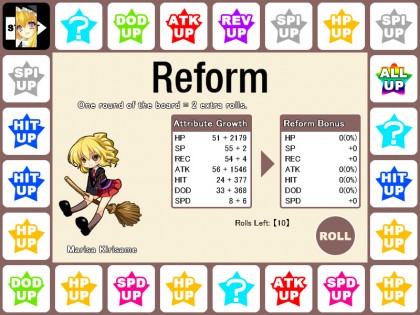 Reform is a process unlocked on a per character basis later in the game by battling and depleting a rival's affection for any given Touhou. After that is done the option to reform can be selected from the character setup screen. The player rolls dice to travel around a game board and the Touhou's base stats increase according to the tiles that they land on. For example landing on HP UP will increase base HP and so forth. After all the rolls are used up the Touhou's level resets to level 1 and the process starts over again. The process is highly variable so it's best to save beforehand to maximize the profit. The stat improvements are noticeable during the first reform but the gains increase greatly after each successive reform since the stat bonuses stack. In one case my reformed level 1 Marisa had a base attack exactly equal to her final attack at level 500 before reforming. Theoretically you can keep doing this for some insane stats. Again using my Marisa as an example I unlocked up to 23 reforms for her with the option to unlock a 24th though I've only used 8 reforms on her. In other words each gacha can be reformed at least 24 times. I don't know the true maximum but from what I've played three reforms is sufficient although multiple reforms makes the daunting EVOPlus content less painful. Ideally it's best to collect five million or more love before each reform so that the Touhous can be leveled back up to or near level 500 again right afterward.
Following along with recent gaming trends Evolution contains its own set of achievements. The nice thing however is that they have a significant in-game effect in the form of the ACE system. Each time one of the twenty achievements is completed the player is awarded a point to use in a stat bonus multiplier that takes effect in battle. Once a character has been used 100 times they can use the bonuses conferred by the ACE system. With an increase of up to 20% for any one stat or lesser bonuses to multiple ones, the benefits can be enormous and make the difference between winning and losing. Moreover the points can be reassigned for different situations! Most of the achievements are fairly easy and come along during normal gameplay. The only really tricky one requires 9999+ damage in one hit since it takes a little setup unless incredibly leveled. The last one I got though was getting all the items. It was also the only one I finished after beating the main game.
As heavily implied in the above content, the game can be a massive grindfest. There were a few times in which I needed higher leveled characters for various reasons and had to stop and level them up. For example in situations I couldn't just use my main team and backup teams exclusively I needed to grind characters. Doing all the dream sequences also required grinding since as stated earlier each one has level requirements. The one good though is that it doesn't take all that long to level up characters once you have access to S and EX rank arcade matches in which case sticking a character in the assist slot leads to very fast leveling. The only catch is that it takes a while if you want to level all the characters since there are a lot of them.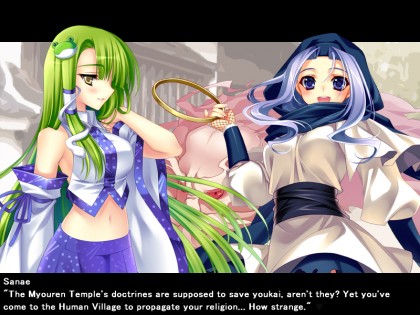 EVOplus's main story follows directly after the events of Evolution and directly involve the aftermath of the previous incident. It's a fairly short romp but makes up for it in difficulty. The difficulty plays as if the player had spent time grinding after the main game finished. This makes sense considering that it's an expansion pack after all but this put me in a disadvantage since I didn't exploit the reform system as much as I probably needed since I went into the EVOPlus story immediately. Despite its short length, I had to stop and grind a few times near the end because of some really tough battles. In particular the final fight sequence was a pain since it consisted of three back-to-back battles and my two extra teams are significantly less reliable than my main team. However it is beatable even with just a couple of reforms. The other big additions are all the new characters including the UFO crew as well as a few others as well as UFO synthesis. Just like in Undefined Fantastic Object, you can approach different characters to combine 3 UFO parts to create new equips. Since the synthesized items have stat multipliers instead of straight stat boosts, they are incredibly more useful endgame.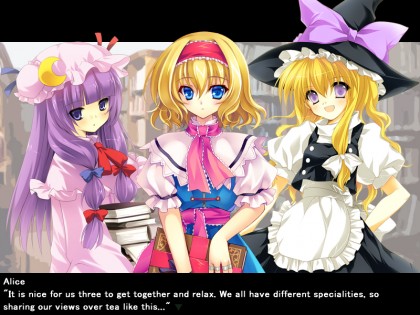 When I finally put the game down to write this post I had gotten everything in the game aside from grinding my Touhous indefinitely. My main team consisting of Marisa, Nitori and Alice is ridiculously powerful at this point. Marisa is basically a glass cannon lacking in HP, dodge and hit. Alice buffs accuracy while Nitori increases evasion so that Marisa can fire a deadly accurate and devastating Mega Master Spark from the back row. The most damage I've ever done with this combination was over 33,000 points which is more than the HP of any enemy I have ever encountered. To put this into perspective if they were this strong when I beat EVOPlus they could have beat the final boss in one hit three times over. In fact most battles end in one turn now so it's really silly. I love this team.
Although I had some complaints with the games such as the sometimes limited control options, the overall the package is pretty decent. The relatively simple system combined with the wide breath of character options makes for a wide range of possibilities. Experimenting with different character combinations can be quite addicting. The game is a massive time sink but it's a solid game if you don't mind the occasional grind. It's a pretty fun way to spend quality time with your favorite Touhous without reflex-heavy danmaku action.