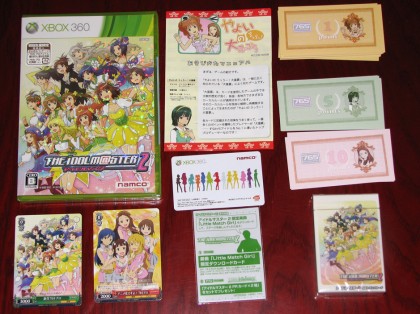 This afternoon I received my copy of THE iDOLM@STER 2 First Release Limited Edition Sparkle Package from AmiAmi. That's quite the long name but it pretty much contains all the limited edition goods possible with the game plus the AmiAmi-exclusive bonus. Unfortunately I don't have time to play it today but I can at least show the internet what was included in the package!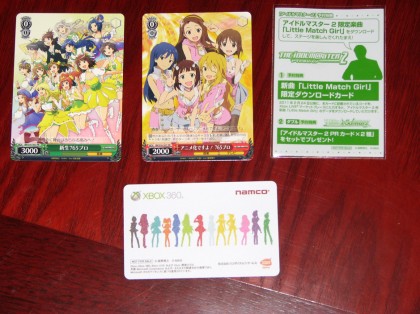 The pre-order bonus includes three cards. Two of the cards are for the Weiss Schwarz trading card game. I do not play the game much less own anymore cards but if I did get into it I'd try to incorporate these cards into a music-centric deck. The more important pre-order bonus however is the download card for the new song Little Match Girl. I can't wait until the MASTER VERSION of this song is out.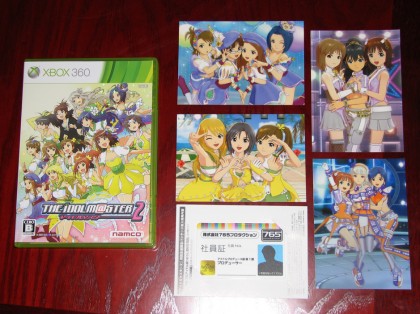 The contents of the Sparkle Package itself are packed into the game's DVD case. The first part is a photo set featuring the 13 idols showcasing some of the new costumes and sets. The second part of the Sparkle Package is an employee card for 765 PRO. The employee card has a set of numbers unique to each card so no two are exactly the same.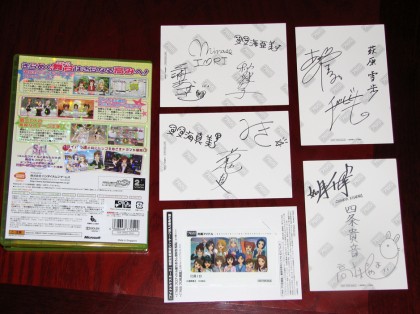 The back of the photos also includes the seiyuu's signatures of their respective idols. It's a nice touch.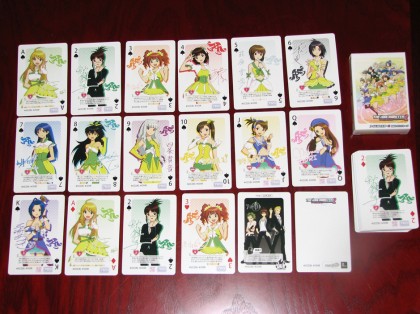 Last up are the AmiAmi-exclusive items. The playing cards feature the 13 idols on the 13 normal cards of each suite although the image for each idol is the same across all suites. For example all four aces have the same image of Miki. The Joker cards are plastered with the rival group Jupiter and the game's logo.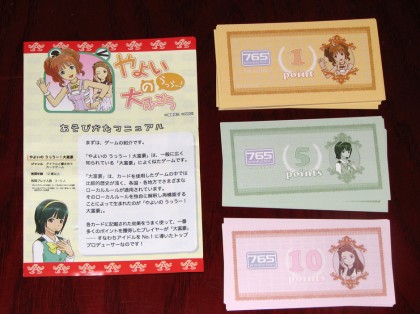 Also included with the playing cards are the rules of some game and play money. I didn't read through it yet but it's apparently Yayoi's game. Various other retailers have their own exclusive pack-ins so I'm curious as to what those are.
I spent a lot of money on this thanks to the terrible exchange rate but I don't regret it. I'll be looking forward to playing it come tomorrow!